DirecTV has added 19 4K Ultra HD titles to its video-on-demand service. Along with Sony, M-Go, and Netflix, DirecTV is one of the first to offer the new video format, which is nearly four times the resolution as traditional 1080p. The company plans to begin offering Ultra HD television channels next year. So far, just a relatively small group of consumers have the Ultra HD TVs needed to watch the content. While only 800,000 Ultra HD TVs shipped in the U.S. this year, analysts project interest is on the rise.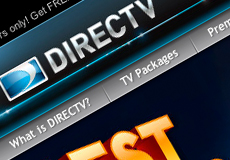 Customers can only access DirecTV's new content if they have a Genie HD DVR and a certified Samsung Electronics Ultra HD TV. The offerings include "Forrest Gump," "Star Trek (2009)," "Transformers: Age of Extinction," and several documentaries.
M-Go, an online video streaming service from Technicolor and DreamWorks Animation, also announced a deal with Samsung last week to expand its catalog to include 4K movies and TV shows. Its Ultra HD selections will number 100 titles by the end of the year.
Meanwhile, Sony's 4K Ultra HD Internet Movie Player has twice that many titles, including "Deliver Us From Evil," "The Amazing Spider-Man 2" and "The Monuments Men."
Netflix, which is already offering "House of Cards" and other titles in Ultra HD, started charging customers $3 more per month for access to this content. Amazon, on the other hand, announced last week that 4K content will be available under the standard $99 per year price of an Amazon Prime subscription.
All of these companies are finally bringing content for the first wave of Ultra HD viewers. The 800,000 Ultra HD sets shipped this year account for only 2 percent of the total TV sets shipped.
"Industry analysts expect adoption to ramp in the coming years, especially as more 4K content hits the market: By 2018, 46 million households worldwide will subscribe to a 4K UHD pay-TV service, according to a forecast by Parks Associates," reports Variety.