It's official. In the largest technology takeover in history, PC tech giant Dell will purchase cloud computing company EMC for $67 billion. Michael Dell is funding the deal with MSD Partners, Silver Lake and Temasek Holdings. He will become chairman and CEO of the combined company, which will be privately held. Joe Tucci is expected to step down as chief exec of EMC once the transaction closes between May and October of 2016. EMC presently owns 81 percent of virtualization software and services company VMware. Dell plans to pay $24.05 per share in cash, plus tracking stock in VMware.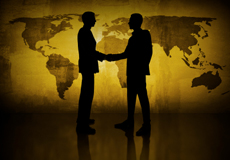 According to the press release, VMware will "remain an independent, publicly traded company."
"News of the deal first leaked last week," notes Business Insider. "It's not just big — it's actually twice as big as the previous largest tech-only deal, the Compaq-HP deal, valued at $33.4 billion. (The Time Warner-AOL deal was larger, but TW wasn't regarded as a tech company at the time.)"
Re/code says the deal will create a tech company with an "estimated annual revenue of more than $80 billion," that will sell "both consumer and IT products, including personal computers, servers and data storage gear for use in corporate data centers."
Dell, EMC and VMware are among the tech companies that have been facing mounting pressure from emerging cloud offerings such as Amazon Web Services. Dell has also been affected by a declining PC market. The merger could help address these issues.
"The deal would combine EMC's dominance in devices that store data with Dell's No. 2 position in servers, the powerful machines that help companies handle big computing challenges," reports Bloomberg. "Dell, which was taken private for about $25 billion in 2013, can expand its product lineup to vie with perennial rivals including Hewlett-Packard Co. and upstarts such as Nutanix Inc."
Topics:
Acquisition
,
Amazon Web Services
,
AOL
,
AWS
,
Cloud
,
Cloud Computing
,
Compaq
,
Data Storage
,
Dell
,
EMC
,
Hadoop
,
Hewlett-Packard
,
HP
,
IT
,
Joe Tucci
,
Merger
,
Michael Dell
,
Mobile
,
MSD Partners
,
Nutanix
,
PC
,
Personal Computer
,
Security
,
Server
,
Silver Lake
,
Software
,
Temasek Holdings
,
Time Warner
,
Virtualization
,
VMware