Underscoring Detroit's determination to be a player in the connected consumer space, General Motors announced that OnStar 4G LTE will be factory-enabled in the majority of its 2015 Chevrolet models including the Corvette and Impala, hitting the market this summer. The move sees GM expanding its relationship with OnStar connectivity partner AT&T and simultaneously mounting a developer outreach program to fuel the Chevrolet AppShop.
The AppShop is expected to bring product to market this year, synchronizing to vehicles via the Chevrolet MyLink feature through OnStar.
Global Chevrolet SVP Alan Batey announced the initiative standing onstage between a shiny red Corvette and Impala at a Sunday evening CES press event at the Mandalay Bay Hotel. In addition to those models, joining the initial lineup will be the Equinox, Impala, Malibu, Silverado, Silverado HD, Spark, Spark EV and Volt, with more models to follow. In Canada the Trax will also be included. More models will be announced this year, the majority of them rolling off the assembly line with the connectivity chipsets, supplied by Qualcomm, built in.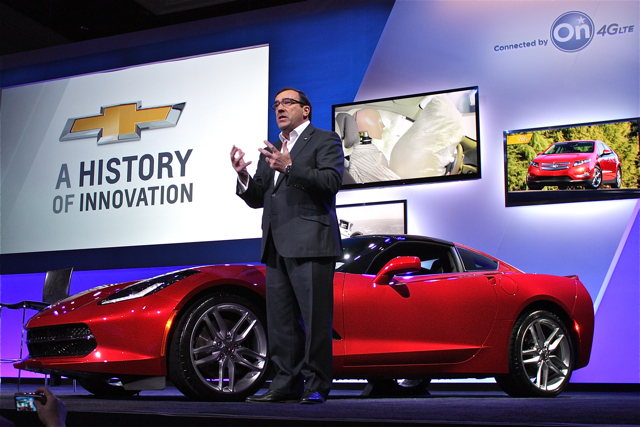 GM has been publicly discussing its 4G LTE initiative since February's Mobile World Congress in Spain, but this was the first time the company revealed the participating models and other details.
Each vehicle will Wi-Fi hotspot up to seven devices, utilizing a wireless connection that does not rely on a brought-in mobile device. Activation will require an AT&T plan, and while pricing and other specifics were not made available, there will be a sign-up option for non-AT&T mobile customers.
"If you're not an AT&T customer there will be an option to buy services through OnStar as well," said GM Global Connected Consumer President Mary Chan.
The approach differentiates GM from competitor Ford, which allows people to sync their phones through SYNC and MyFord Touch utilizing their existing plans. "Because it's embedded there are plenty of applications that are simple and intuitive that can be built very specifically for the car," Chan said. "The car becomes the smart devices. For instance you can start the car, warm the car, cool the car, remotely. That's available today and there will be many more such features."
Batey stressed the data-enabled aspect of the initiative. Each vehicle will be equipped with performance data recorders, or PDRs, that feed operational data, such as enhanced on-demand diagnostics capability and maintenance notifications. In the case of the Corvette, Chevrolet will cater to performance enthusiasts by offering a built-in camera that will record a ride.
With regard to the Chevrolet AppShop, "This is an open call to content providers and third-party developers to build relevant apps for our app shops," said Batey, directing parties to www.developer.ge.com.
AppShop offerings will be available in cars equipped with Chevrolet MyLink. Initial AppShop partners include Clear Channel's iHeartRadio, Priceline.com, The Weather Channel and NPR.
In making the announcement, Batey — who was joined briefly onstage by AT&T Mobility President Ralph de la Vega — stressed GM's history of innovation, noting that Chevrolet was the first automaker to offer factory-built radios in 1934. More GM connected models will be announced later this year.
Topics:
2014
,
4G
,
App
,
AppShop
,
AT&T
,
Auto
,
Batey
,
Camera
,
Canada
,
Car
,
CEA
,
CES
,
Chevrolet
,
Chip
,
Connected
,
Consumer
,
Corvette
,
Detroit
,
Electronics
,
Equinox
,
Ford
,
GM
,
iHeartRadio
,
Impala
,
Las Vegas
,
LTE
,
Malibu
,
Mobile
,
MyFord
,
MyLink
,
NPR
,
OnStar
,
PDR
,
Plan
,
Priceline
,
Pricing
,
Qualcomm
,
Show
,
Silverado
,
Spain
,
Spark
,
Store
,
Trax
,
Vehicle
,
Volt
,
Weather
,
Wi-Fi
,
Wireless