Inspired by the "universal human desire to experience joy, wonder and amazement, moments that move people's hearts and connect them to one another, what we call Kando," Sony chairman, president and CEO Kenichiro Yoshida began Sony's CES media briefing by celebrating creators. Evident was a more unified corporate direction and concrete examples of Sony divisions working together. Movies, television, music, games and sports, and ways for audiences to experience them, were prominent examples. Following an exhilarating clip from the upcoming feature "Gran Turismo," based on the PlayStation game, the prototype for the first Sony Honda Mobility car rolled out.
The launch of Sony's first nano-satellite for Star Sphere, an educational project that provides an opportunity to think about the global environment and social issues, led Yoshida into a discussion of the CMOS image sensor that is at the heart of Sony's new Venice 2 cinema camera (used on such blockbusters as "Top Gun: Maverick"), and has been added to the company's pan-tilt-zoom (PTZ) camera, the FR7.
He also noted Sony Innovation Studios for its virtual production work and Sony Pictures acquisition of visual effects studio Pixomondo.
Introducing Nicole Brown, president of Tri-Star Pictures, Yoshida said he was particularly excited to introduce diverse voices and perspectives to audiences. "The Woman King" was one example of original, director-driven, culturally relevant and fun entertainment.
For "I Wanna Dance with Somebody," the musical biopic of the Whitney Houston story, Brown said they are working with the original master recordings to create "a sonic experience so you feel like you're in the room as the legend Whitney Houston is singing just to you."
PlayStation Productions president Asad Qizilbash, director Neill Blomkamp and Sanford Panitch, president of Sony Pictures Entertainment Motion Picture Group, previewed "Gran Turismo," based on the incredibly successful PlayStation franchise.
In the clip and behind-the-scenes footage they showed, previously impossible camera positions promise exhilarating angles along with the game's signature views. At the heart of the movie is a true and emotional story.
Next, Yoshida introduced a proof-of-concept service for sports fans that enables them to experience gameplay on the field based on actual game data.
Jim Ryan, president and CEO of Sony Interactive Entertainment, highlighted success of PlayStation 5 with more than 30 million units sold and anticipation for the latest PlayStation VR. He also announced a new, configurable game controller designed especially for players with disabilities. Called Project Leonardo, "It's a true canvas that enables many gamers with disabilities to craft their own play experience," said Ryan.
Yasuhide Mizuno, chairman and CEO of Sony Honda Mobility unveiled a prototype for the group's first EV, currently called Afeela. Loaded with technology and a true software defined vehicle, the car will be available for pre-orders in 2025 with the first North American shipments expected in 2026.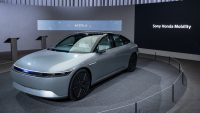 Kim Libreri, chief technology officer at Epic Games, developer of the Unreal game engine, suggested some novel applications for this car that strives to redefine both space and time.
Yoshida's final guest was Cristiano Amon, president and CEO of Qualcomm, who came to the stage to talk about a long, successful collaboration with Sony that will take on a new dimension as the Sony Honda Mobility car goes into production.
Further details on specific Sony products, including the car, will be reported as CES continues and in our final report.
Related:
Sony Pictures Entertainment Acquires Pixomondo, IBC 365, 11/1/22
Gran Turismo – Exclusive Sneak Peek (Video), Sony Pictures Entertainment, 1/4/23
CES 2023: Gran Turismo 7 Is Coming to PS VR2 as a Launch Game, Digital Trends, 1/4/23
Sony Announces New Controller Aimed at Gamers with Disabilities, Ars Technica, 1/5/23
Sony and Honda Just Announced Their New Electric Car Brand, Afeela, The Verge, 1/4/23
Topics:
Afeela
,
Asad Qizilbash
,
CES 2023
,
Cristiano Amon
,
Epic Games
,
Gran Turismo
,
Jim Ryan
,
Kenichiro Yoshida
,
Kim Libreri
,
Neill Blomkamp
,
Nicole Brown
,
Pixomondo
,
PlayStation
,
Project Leonardo
,
Qualcomm
,
Sanford Panitch
,
SIE
,
Sony
,
Sony Honda Mobility
,
Sony Pictures
,
Star Sphere
,
Tri-Star Pictures
,
Whitney Houston
,
Yasuhide Mizuno