The Internet of Things is only meaningful when it really encompasses everything. This was the key refrain throughout the CES keynote panel "Fast Innovation: Disrupt or be Disrupted" featuring John Chambers, Cisco chairman and CEO, Neil Smit, president and CEO of Comcast Cable and Werner Struth, member, board of management, Robert Bosch GmbH. David Kirkpatrick, founder, host and CEO of Techonomy moderated the discussion on the evolution of the connections between people, data, business and innovation.
"The Internet of Everything must look at the whole system," suggested Chambers.
Smit, with Comcast's Brian Roberts, redefined their approach to data and connectivity when they recognized that, according to Smit, "It is not just about random data. It is about connecting data and making it relevant."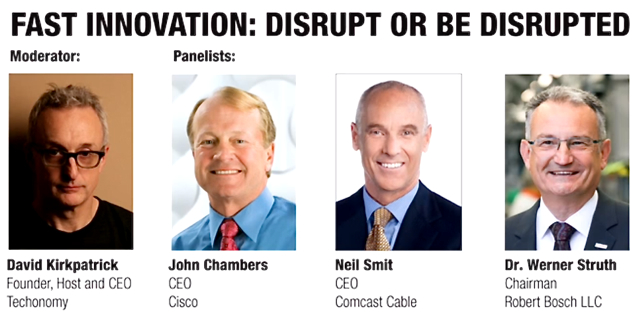 As Chambers explained, it is vital to take entire system factors into account. Successful implementations across complex systems, cities and countries, for example, must take a comprehensive view and consider all of the systems. He noted that Israel is a country that digitized itself to make itself more competitive and he cited Hamburg, Barcelona and Chicago as three cities taking a wholistic approach to their technology.
While the point was not specifically addressed by the panelists, media and entertainment companies do well to consider entire systems as a whole rather than as completely separate and discrete. The approach underway through Project Cloud with ETC@USC applies many of the comprehensive thinking the panelists discussed.
Smit was the only executive with a specific business agenda connected to entertainment. But for the purpose of this panel he represented the central questions of broadband access and data. Smit allowed that his company has been doing well honoring the requirements of the U.S. Open Internet provisions.
A key, said Chambers, is connectivity to all, but cautioned that this necessity only becomes a reality when there is a balance between government cooperation and economic incentives.
Bosch's Struth noted German Chancellor Angela Merkel's characterization of Industry 4.0, a broad vision where digitization and the Internet of Everything drives economic growth.
Struth also echoed privacy and data ownership concerns raised at CES on Tuesday by U.S. Federal Trade Commissioner Edith Ramirez. "Who is the owner of the data?" Struth asked. He believes it is a privacy issue and individuals have the right to control access to their own data. "For acceptance of the Internet of Everything we need to clarify for customers," he said.
Bosch offers customers the option of using data to deliver more functionality. If the customer experience can be improved when data is shared, then customers benefit with a product that serves them with maximum and optimized features and functionality. They receive value for the data they share. Kirkpatrick shared the comments of Ford President Mark Fields who said that data collected unquestionably belongs to the customer.
Since the title of the panel was fast innovation, all of the panelists shared stories of accelerating innovation cycles and the use of hackathons. All agreed that it is impossible to conduct business and government the way we always have and continue to succeed.
The hour-long keynote panel is available to watch via YouTube.
Topics:
2015 CES
,
Angela Merkel
,
Barcelona
,
Brian Roberts
,
Broadband
,
CEA
,
Chicago
,
Cisco
,
Comcast Cable
,
Data
,
David Kirkpatrick
,
Edith Ramirez
,
ETC@USC
,
Ford
,
FTC
,
Hamburg
,
Industry 4.0
,
Internet of Everything
,
Internet of Things
,
Israel
,
John Chambers
,
Mark Fields
,
Neil Smit
,
Open Internet
,
Privacy
,
Project Cloud
,
Robert Bosch
,
Techonomy
,
Werner Struth