Liquid Image unveiled a new mini camera during CES, which is capable of streaming live video to the Internet over 4G LTE wireless. Intended for extreme sports, news coverage and point-of-view footage, the $200 EGO LS will be available in the U.S. in June. Users can record 1080p video at 30 fps or transmit over 4G LTE in lower resolution WQVGA at 30 fps. The camera was demonstrated in Las Vegas attached to a $200 Verizon 4G network module.
"The streams can pass through a cloud service to go out through a website or social media," notes Adrian Pennington for The Hollywood Reporter. "The camera also has Bluetooth to enable remote operation. The unit has a wide-angle 8.0 megapixel lens and sensor with a battery life of up to two hours while recording in HD."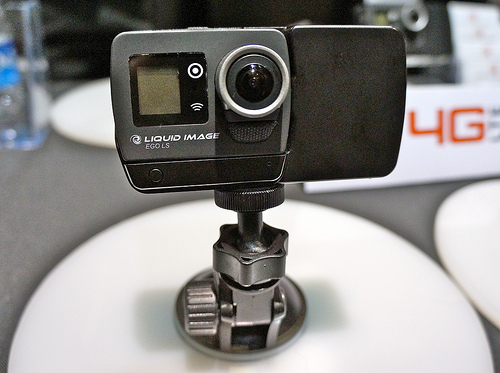 A High Action mode enables 720P video recording at 60 frames per second, while a separate waterproof case allows the EGO LS to be used at a depth of 130 feet. Liquid Image describes the camera as small and light enough to be wearable or mountable. It also features a motion detector and can be used as a security monitor.
According to the press release, the camera "can be used in the same manner as the Ego Mountable camera to connect to iOS or Android devices over Wi-Fi with the use of the free Liquid Image App which can be downloaded through iTunes or Google Play. The app may be used to stream live view to a mobile device, view recorded files, trim video clips, transfer files to a mobile device, adjust camera settings and act as a remote control to activate the camera."
Topics:
1080p
,
2014
,
4G
,
720p
,
Android
,
App
,
Battery
,
Bluetooth
,
Camera
,
CEA
,
CES
,
Cloud
,
Consumer
,
EGO
,
Electronics
,
Extreme
,
Frame
,
Google
,
HD
,
Image
,
Internet
,
iOS
,
iTunes
,
Las Vegas
,
Liquid
,
Live
,
LS
,
LTE
,
Mini
,
Mobile
,
module
,
Motion
,
Network
,
News
,
Online
,
Pennington
,
Play
,
POV
,
Remote
,
Security
,
Sensor
,
Show
,
Social
,
Sports
,
Stream
,
Streaming
,
Verizon
,
Video
,
Wi-Fi
,
Wireless
,
WQVGA