At CES 2019 this week, Synamedia will debut Credentials Sharing Insight, a service enabled by artificial intelligence to discover and halt password sharing, from the casual to the criminal. It's part of a growing trend among pay TV and streaming video services to curtail the use of shared passwords, especially among friends and family. Synamedia chief product officer Jean-Marc Racine noted that, "the way you secure OTT is evolving." Parks Associates estimates a loss of as much as $9.9 billion due to password sharing by 2021.
Variety reports that, "previously, TV operators largely relied on secure devices, including locked-down set-top boxes and smart cards to decrypt satellite TV." But with the rise of streaming content, services designed sign-on solutions that were easy for consumers but also hard to control: "Most services have tried to curtail password sharing by limiting the number of simultaneous streams, with little else to go by to identify abuse."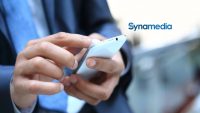 "Today, you are in the dark," said Racine.
Synamedia's tack has been to cluster users based on streaming behavior, including physical location and general usage patterns. That can unearth suspicious behavior, such as someone simultaneously streaming from both coasts or streaming 24/7. It "can even take a look at the specific content streamed by a user to identify unusual patterns."
With AI, Synamedia then "trains models to score users on a scale of 1 to 10, indicating whether they are likely sharing their passwords or not." Racine explained that it's up to each company to determine how to act after identifying offenders, but suggested that, rather than punishing them, "companies could target password sharers with up-sell options for tiers with additional simultaneous streams."
Another potential option would be to "target users of shared passwords with specific messaging to convince them to pay up, or restrict access to the most popular content." But Racine added that, "it was important to dig into the data, and not jump the gun on users who may simply use the same account within their immediate family," which many regard as acceptable behavior. "You don't want to have false positives," he said.
For more information on Credentials Sharing Insight and Synamedia's VideoGuard portfolio of products and services, visit the company's press release or website.