The Home of the Future was a popular theme at World's Fairs and theme parks. Such a home would include centralized and automated control of appliances, voice commands, picture phones, and the use of computer technology throughout the house. That Home of the Future concept was in evidence throughout CES with connected solutions from companies including Samsung, Technicolor, Qualcomm and AT&T.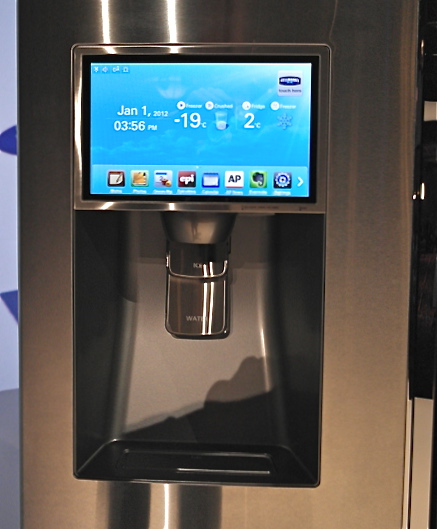 "The Smart Home" was a major demonstration at Samsung's booth. One could display and control the efficient use of energy throughout the home. You could "send" a movie from your Samsung tablet to the Samsung television while simultaneously dimming the lights. A calendar might alert you on the TV to an upcoming meeting. You could view and manage recipes, family photos, calendars, the weather and, of course, your supermarket shopping list on the LCD display of your Samsung refrigerator. Finally, you could give a voice command to your Samsung smartphone to start the washing machine and the robotic vacuum cleaner even though you were out of the home. And, you could view the home remotely through the vacuum's video camera. All this is possible in the Samsung Smart Home.
Of course, if you didn't own a completely Samsung home, Technicolor offered some hope with Qeo, which they announced at CES. Qeo is a communications middleware technology that allows for interoperability between devices and applications across competing brands and ecosystems. In their demonstration, the home "recognized" the face of the homeowner as they walked in and automatically turned on the lights, set the television to the preferred channel, started the virtual fireplace and set the proper room temperature. A calendar alert popped up on the TV. Parents were able to remotely monitor and control their children's TV viewing — "Your father thinks you should not watch this." Technicolor announced support for Qeo from IBM, STMicroelectronics, Seagate, Avanquest, Telecom Italia and Portugal Telecom.
Meanwhile, Qualcomm and AT&T announced a joint project called the Internet of Everything development platform. Based on Qualcomm's chipset and modems for 3G and AT&T's cellular bandwidth to connect to the Web, the platform seeks "to make the process of creating Internet of Things devices and applications easier." For example, doctors could remotely monitor a patient's blood pressure, heart rate and glucose level. The home security system allows the homeowner to turn on the lights and HVAC on entering, lock and unlock doors, and remotely view live in-home video feeds. Not surprisingly, this interoperability extended to the car whose smart systems could reach into the home.
It would seem that the Home of the Future is becoming the Connected Home.
Topics:
App
,
AT&T
,
CES
,
Connected Home
,
Internet of Things
,
Mobile
,
Qualcomm
,
Samsung
,
Smartphone
,
Tablet
,
Technicolor