With entertainment spending growing to $18.7 billion according to IHS Screen Digest, the entertainment industry is reaping the rewards of offering consumers more choice and options in how they consume content. TV Everywhere's multi-channel, multi-device approach is finally complementing rather than cannibalizing. The year saw strong growth in Blu-ray discs. UltraViolet's 7 million households and 8,500 titles now position the format to grow significantly in 2013. Video streaming or SVOD tripled in the first three quarters of the year to an estimated $1.7 billion. And studios continue to experiment with their windowing strategies for electronic sell-through. In this environment, the CE industry continues to respond and innovate.
Ultra HD 4K
This year's star act will be real (not demo) products featuring Ultra HD with 4K becoming the new 1080P. LG (LG 84LM9600) and Sony (XBR-84X900) have just begun to offer their first 4K consumer displays both of which are 84-inch LEDs costing about $20,000. We will see many more manufacturers join them. Hisense has promised 50-, 58-, and 65-inch sizes. Look for 4K TVs to showcase the new second generation eyeIO StudioRes to enable 4K, 10 bit, 4:2:2, xvYCC video, which is being used by Netflix.
Still, even with the emergence of 4K Blu-ray players, the outlook for 4K is unclear given the current high prices and the lack of a broadcast standard. Moreover, cable and satellite providers will be challenged to provide sufficient bandwidth for 4K. If the industry somehow overcomes these obstacles, 8K may present the next target for the future.
Besides higher resolutions, several manufacturers — Samsung, Sony, LG, Hisense — are promising TVs with 240Hz frame rates, making it ideal for fast-action movies and games. In 3D, Hisense may showcase Stream TV Networks' Ultra-D 2160p to allow glasses-free 3D at resolutions up to true 2160p.
Going Mobile
High dynamic range (HDR) will be included in at least one smartphone. The HTC M7, the company's next flagship smartphone, is rumored to feature a 4.7-inch, 1080p, high-resolution display with 468 pixels-per-inch density and a 13 megapixel rear-facing camera with a Cinesensor image sensor capable of 1080p video, lower-resolution high-speed video and HDR still images.
The drive towards higher resolution is also seen in mobile devices. The Nexus 10, iPad and Nook HD all feature significantly higher pixel density that will set a new standard. Several manufacturers — Panasonic, LG, ZTE, Sharp, Oppo and Pantech — have sneaked plans for 1080p smartphones. Samsung Electronics will show off its 5.5-inch flexible screen for smartphones featuring a 1,280 x 720 pixel HD resolution and a 267 pixel density. Beyond mobile access, tablets, smartphones and even game systems like the Nintendo Wii U are becoming essentials for second screen home entertainment configurations.
Video Camera Integration
Video cameras will increasingly be incorporated into products like TVs for use in video chatting such as with Skype and to enable new features such as facial recognition to power dynamic insertion of ads, improved targeting, performance measurement and eye-tracking applications. We may see appliances with cameras such as refrigerators to track product use and even robotic vacuums for monitoring and navigation.
IP Video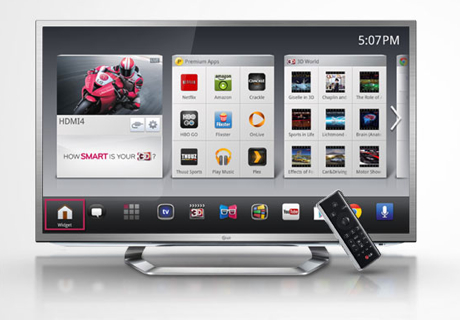 CNET predicts we will soon be "streaming everything." They expect updates from Google TV, Roku, Simple.TV and others. LG will show seven TVs incorporating Google TV. Of course, everyone is waiting to see what Apple does with its "hobby" following CES.
But the big news at the show may be that Intel is expected to announce their virtual cable TV service at a January 7th CES event. They may finally demonstrate their new set-top box which combines both streaming and cable TV service. A rumored feature will allow viewing of any show you have subscribed to over the last month. And users may be able to subscribe to individual channels and possibly even shows. Has Intel beat Apple and Google to the punch?