CES always opens with CTA chief economist Dr. Shawn DuBravac's revelation of the consumer electronics market numbers for the past year, and predictions for the coming year. This year — CES's 50th anniversary — was no exception. DuBravac identified five trends to watch in the coming year: the new voice of computing; artificial intelligence's infusion in our lives and businesses; connections and computations; transportation transformation; and digitizing the consumer experience.
The advent of the digital assistant is displacing the long-time GUI (graphical user interface), which originally revolutionized how people use computers in the mid-1980s, according to DuBravac. Voice recognition has had a long path to success, starting with a team at Microsoft in 1994.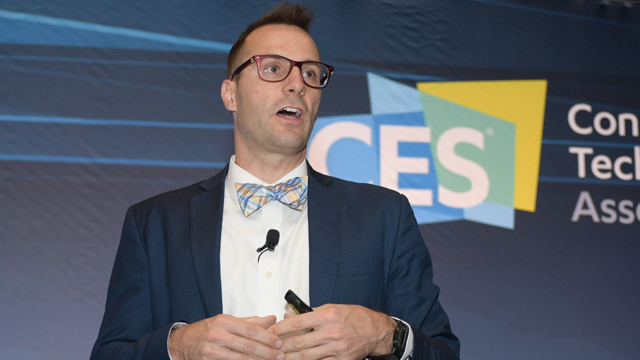 "The technology had a 100 percent word error rate in 1995," reports DuBravac. "That decreased to 23 percent in 2013, and, finally, human parity, at 5 or 6 percent, in 2017. There was more progress in the last 30 months than in the last 30 years." Whereas smartphones were the hub for voice, now devices like Amazon Alexa are gaining primacy. He predicts we'll see many more voice-powered digital assistants at CES 2017 and in the coming year.
"Hub devices are key to vocal computing, whether it's the smart home, Uber or financial institutions," added DuBravac, who says he wouldn't be surprised if Amazon Alexa's current 1,500 applications "grew 50 percent in the next four days." He also predicts that we'll see "another $5 million in sales of voice activated digital assistants in 2017, doubling the existing market."
Artificial intelligence is making a lot of progress, said DuBravac, who predicts the algorithms that define recommendations are going to evolve in the near future. "They were created originally to keep people on the platform," he said. "The next step is to broaden the kind of content they're watching, not just the length of time they're watching." Assessing AI's impact requires an examination of the depth of knowledge, fluidity of conversation, value of recommendations, AI infused adjustments and depth of change.
Connections and computations refer to how the network is being redefined. "CES is a connectivity show that pulls together every one of the players across the mobile lifestyle," said DuBravac. "We're not just looking at the reliability of the network but where we go from here and how we redefine the environment. With 5G, we get lower latency, faster speeds and so on and have to ask ourselves what are the services to be deployed over those networks."
Smart homes and wearables are two other growing categories. "We are increasingly living with robots, although we won't call them robots — we won't realize they are computing locally and remotely," he said. "Our view of the smart home is beginning to change and the digital assistant is the glue that holds it all together."
Wearables is predicted to almost double in value between 2015 and 2020. CES 2017 hosts more than 250 exhibitors in wearables related to sports, sleep, family technology, health and wellness. "We're digitizing and democratizing healthcare," explained DuBravac. New wearables include the Helios smart ring that measures Vitamin D exposure and Prevent Biometrics' mouthguard that measures concussions.
Self-driving will be "a strong storyline at CES," said DuBravac, who notes that there will be nine OEMs, and 11 Tier 1 suppliers as well as "hundreds of others vying for a piece of this quickly growing market." He points out Chrysler's all-electric Portal, the Honda NeuV, and Ford self-driving Fusion as examples of new tech at CES.
Drones are also evolving in 2017, with many new use cases demonstrated at the show, including a home security company that will deploy a drone to investigate when a home alarm is triggered.
Digitizing the consumer experience covers a very wide range of use cases, and DuBravac stresses the importance of VR and AR for the future of entertainment. He notes that, although this space is brand new, hardware sales are predicted to skyrocket 80 percent in 2017. He also predicts we'll see a rush for VR-capable computers priced at below $1,000.
Topics:
5G
,
Amazon Alexa
,
Artificial Intelligence
,
Augmented Reality
,
Autonomous Vehicles
,
CES 2017
,
Chrysler Portal
,
CTA
,
Digital Assistants
,
Drones
,
Ford Fusion
,
GUI
,
Honda NeuV
,
Microsoft
,
Prevent Biometrics
,
Robots
,
Shawn DuBravac
,
Smart Home
,
Smartphones
,
Uber
,
Virtual Reality
,
Voice Recognition
,
Wearables