Television broadcasters intend to petition the U.S. Supreme Court to review the ruling from a lower court involving Aereo's continued streaming of digital broadcast signals in the New York area, according to sources with knowledge of the case. October 15th is the deadline to file the petition. Broadcasters have achieved some court victories against another startup, FilmOnX, which provides a similar service. Meanwhile, Aereo announced its service will be available for Android devices later this month.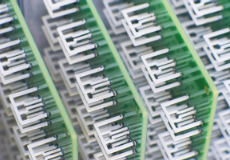 "In July, one of the plaintiffs, Fox, indicated that appealing to the high court was one of its options after the 2nd Circuit Court of Appeals refused to reconsider the case," reports Variety. "The appellate court had upheld a lower court decision in which U.S. District Judge Alison Nathan denied broadcasters' efforts to obtain a preliminary injunction to stop Aereo."
In March 2012, Aereo debuted in New York and offered digital streams of over-the-air broadcasting via thousands of coin-sized antennas that are assigned to each of its users. Broadcasters have argued in court that Aereo is violating their copyright of public performance.
Despite a loss in the Circuit Court, broadcasters have won in Los Angeles and Washington district courts to stop FilmOnX. The startup provides similar broadcast TV digital streaming via remote antennas.
The Supreme Court is typically willing to enter a case when circuit courts offer conflicting opinions. But the issue is whether the court will accept the case, or let the legal process continue in the lower courts. The Ninth Circuit Court has not issued a final decision on FilmOnX's appeal of the Los Angeles district court case.
Aereo is being challenged in two lawsuits in New York. Plaintiffs in one case are the stations of Fox Television, Univision, PBS, and stations WPIX and WNET. The other case involves ABC, CBS, NBCUniversal, Telemundo and WNJU.
In related news, the "controversial startup that slings over-the-air TV channels to laptops and mobile devices for $8/month, will be available to millions more customers later this month," reports GigaOM. "The company, which had earlier said its service would be available for Android devices in September, confirmed on Thursday that an Aereo app will appear in the Google Play store on October 22."
Topics:
ABC
,
Aereo
,
Android
,
Antenna
,
Appeal
,
Broadcast
,
CBS
,
Copyright
,
Court
,
Federal
,
FilmOn
,
FOX
,
Google
,
Illegal
,
Injunction
,
LA
,
Lawsuit
,
Legal
,
Los Angeles
,
NBC
,
NBCUniversal
,
New York
,
NYC
,
Over-the-Air
,
PBS
,
Petition
,
Regulation
,
Startup
,
Stream
,
Streaming
,
Supreme Court
,
Telemundo
,
Television
,
TV
,
Univision