BitTorrent is debuting BitTorrent Live, a new live TV streaming app for the latest generation Apple TVs and computers, which offers live streams from 13 niche programmers. The goal is to build a virtual MVPD (multichannel video programming distributor), with more prominent cable networks. For now, the BitTorrent package is comprised of channels such as Clubbing TV, Filmbox Arthouse, FightBox, Newsmax TV, Heroes TV and TWiT. Although these aren't well-known networks, the offering is free, unlike other TV streaming services.
Variety reports that BitTorrent Live executive Erik Schwartz says bigger networks and paid subscriptions could come as early as summer; in the meantime, the free tier differentiates the offering.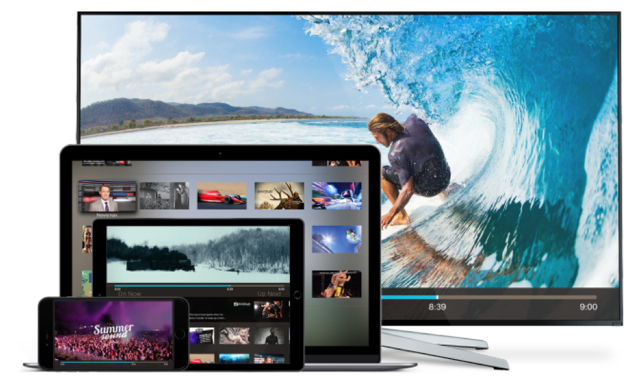 BitTorrent is able to offer free streaming because it uses "P2P technology similar to the one used by its file sharing client to distribute its streams," which means it "doesn't have to pay for content delivery networks, and live streams are also less likely to fail under high demand."
The San Francisco-based BitTorrent, which began working with live streaming on PCs in 2011, tested its P2P-based live streaming on the new Apple TV with an ad hoc election coverage channel earlier this year, and Schwartz notes that others could use BitTorrent TV to launch pop-up channels that wouldn't require a streaming infrastructure.
On its company blog, Schwartz says the new solution will solve problems often associated with live streaming. "Powered by our proprietary and patented peer-to-peer live streaming protocol, BitTorrent Live allows for large audiences to view live video with sub 10-second latency and without the need for an expensive CDN or pre-provisioning," he explains. "BitTorrent Live is the platform that can turn large scale live streaming into a business model."
Ars Technica notes that Netflix has hired staff to develop P2P technology, but "hasn't announced any specific plans to use it in production."
As BitTorrent adds channels, the focus will be on content most suited for live viewing, including news, sports and events. But, says Schwartz, the company might also carry HBO and AMC eventually. "We will carry them, but we're not in a hurry to carry them," he said.
The company, which still makes most of its money via its file-sharing client, has branched out recently into file synchronization tools for enterprise users and media distribution for musicians and filmmakers, and also launched a Los Angeles office and production space.
Topics:
AMC
,
App
,
Apple TV
,
BitTorrent
,
BitTorrent Live
,
Cable
,
CDN
,
Clubbing TV
,
Computer
,
Distribution
,
Enterprise
,
Erik Schwartz
,
FightBox
,
File Sharing
,
Filmbox Arthouse
,
HBO
,
Heroes TV
,
Live Streaming
,
Live TV
,
Los Angeles
,
MVPD
,
Netflix
,
Networks
,
News
,
Newsmax TV
,
P2P
,
Programming
,
San Francisco
,
Sports
,
Subscription
,
Television
,
TWiT
,
Video