When Walmart started a bank in the early 2000s, states passed laws to ban branches and Congress drafted a law to ban retailers from opening banks. Almost ten years later, Walmart threw in the towel, with its president for financial services Jane Thompson vowing the company would never try it again. That hasn't stopped Google from announcing it will begin to offer checking accounts next year. Uber wants to open Uber Money, a bank for its drivers (and perhaps riders) and Facebook debuted Facebook Pay.
Wired lists other Big Tech companies planning to get into banking: Apple with its own credit card, Facebook's cryptocurrency Libra and Amazon, which reportedly has explored checking accounts. It notes, "U.S. tech firms need only look to Asia for a lesson in how a push into banking can accelerate their growth," including WeChat's QR codes and Alibaba's banking arm Ant Financial, which is "far bigger" than Goldman Sachs.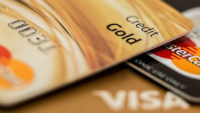 Bain banking consultant Gerard du Toit said that "tech firms can deliver financial services right where and when they're needed," because of all the data they already possess on individuals. But their main goal, added du Toit, is that "tech companies want to lock you even more securely into their existing business models." "All of these players have quite bold ambitions to be the center of everyone's life where you just can't imagine breaking up with them," he said.
Among the obstacles to this ambition are banking's strict regulations and political/regulatory scrutiny, as Facebook has found out with the brouhaha generated by its Libra plans. For those reasons, most tech companies choose to partner with banks, for co-branded credit cards and checking accounts.
Google payments executive Caesar Sengupta said that is Google's plan. Big Tech companies also face "disruptors" such as Venmo and so-called challenger banks that offer "basic, low-fee digital services with less overhead than typical banks."
But challenger banks find it difficult to scale and had reliability issues, such as customers of Chime, "the biggest challenger bank so far, in which millions of customers found themselves suddenly unable to buy groceries or put down security deposits on new apartments."
Big Tech, opines Wired, "could probably deliver those services better," due to their existing infrastructure and data to predict required services.
Apple Card, for example, "helps bolster Apple Pay, which in turn boosts sales of the iPhone and related services." With Facebook's focus on ads, "in the privacy page for Facebook Pay, the company gives the example of targeting you with an ad for a baseball bat because you bought a baseball glove." Even Walmart "did fine," becoming "a financial hub for everything from remittances and credit cards to tax help."
The end game, said du Toit, is that Big Tech companies "clearly intend for world domination, and there's no doubt financial services are a part of that."
Related:
Next in Google's Quest for Consumer Dominance: Banking, The Wall Street Journal, 11/13/19
Topics:
Advertising
,
Alibaba
,
Amazon
,
Ant Financial
,
Apple
,
Apple Card
,
Apple Pay
,
Bain & Co.
,
Banking
,
Caesar Sengupta
,
Challenger Banks
,
Chime
,
Congress
,
Credit Cards
,
Facebook
,
Facebook Pay
,
Finance
,
Gerard du Toit
,
Goldman Sachs
,
Google
,
Jane Thompson
,
Libra
,
Retail
,
Uber
,
Uber Money
,
Venmo
,
Walmart
,
WeChat