President Biden's second State of the Union speech Tuesday night included calls for stronger consumer privacy protections and tougher antitrust laws in direct challenge to what many perceive as the unchecked power of Big Tech. "Pass bipartisan legislation to strengthen antitrust enforcement and prevent big online platforms from giving their own products an unfair advantage," Biden stated, urging Congress to "stop Big Tech from collecting personal data on kids and teenagers online, ban targeted advertising to children, and impose stricter limits on the personal data these companies collect on all of us."
Biden's comments were "a win for progressives who have been pushing for legislation to rein in the tech industry's power for years," writes Bloomberg, noting that the speech marked "the first time the word 'antitrust' has been used in the State of the Union since 1979, according to historical records of the annual speech."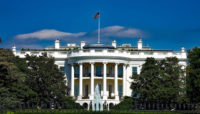 Apple, Amazon, Meta Platforms and Google were singled out by Bloomberg as having particular cause for concern. TIME notes that it was a member of Biden's own party, Senate Majority Leader Chuck Schumer, who "last year effectively killed two bipartisan antitrust bills aimed at cracking down on platform monopolies."
Bloomberg writes that Biden "has elevated the issues posed by big corporations more than any other president in decades," underscoring progressive appointments to key posts overseeing antitrust policy at the White House, Federal Trade Commission and Department of Justice, and 2021's "sweeping" executive order promoting competition.
Whether Biden's saber rattling amounts to more than words remains to be seen. The Verge observed that data privacy and online child safety were capstones of Biden's previous national addresses, "but over the last two years, little has been done to improve the safety of young users on social media in the U.S." Of the "dozens of bills" lawmakers have introduced, none has even made it to a floor vote in the House or Senate.
"Many of these bills, like Senators Ed Markey (D-Massachusetts) and Josh Hawley's (R-Missouri) measure to update a standing online child safety law, do much of what Biden asked for Tuesday, like banning platforms like Instagram and YouTube from targeting ads to minors," The Verge notes.
Biden emphasized his administration's work to improve U.S. competitiveness against China and championed the the $52 billion CHIPS and Science Act, passed in August, which includes $52 billion in funds for U.S. semiconductor manufacturing.
"I will make no apologies that we are investing to make America strong, investing in American innovation, in industries that will define the future, and that China's government is intent on dominating," Biden remarked. "Despite the speech's focus on China, Biden did not comment on whether his administration would ban TikTok," The Verge wrote.
Topics:
Advertising
,
Amazon
,
Antitrust
,
Apple
,
Big Tech
,
Child Safety
,
China
,
CHIPS and Science Act
,
Chuck Schumer
,
Congress
,
Department of Justice
,
Ed Markey
,
FTC
,
Google
,
Instagram
,
Joe Biden
,
Josh Hawley
,
Legislation
,
Manufacturing
,
Meta Platforms
,
Privacy
,
Safety
,
Semiconductor
,
TikTok
,
White House
,
YouTube