The Academy Software Foundation (ASWF), a neutral forum to develop and collaborate on open source software for images, VFX, animation and sound, debuted its first hosted project, DreamWorks Animation's OpenVDB, an open source C++ library for volumetric representations including fluid simulations, animated volumes and environmental effects. The Foundation also added Sony Pictures Entertainment/Sony Pictures Imageworks, Warner Bros., Blender Foundation and the Visual Effects Society (VES) as new members.
According to ASWF, OpenVDB is "an Academy Award-winning industry standard for creating more detailed and realistic volumetric images, including water/liquid simulations and environmental effects like clouds and ice."
"We are … proud to accept OpenVDB as the first ASWF hosted project," said the foundation's executive director David Morin. "It's a critical technology developed by DreamWorks Animation that is used by many studios, and the developer community is very excited to maintain and contribute to the project." DreamWorks has used OpenVDB for visual effects on feature films including "Boss Baby," "Trolls," and the upcoming "How to Train Your Dragon: The Hidden World."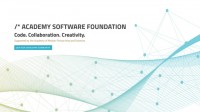 The Academy of Motion Picture Arts and Sciences, together with the Linux Foundation, launched ASWF in August 2018. ASWF Governing Board member Andrew Pearce, who is also DreamWorks vice president of global technology, noted a "growing need in the industry to support key open source projects." DreamWorks' commitment to "the cause," said Pearce, is what led the company to contribute OpenVDB as the first open source project.
ASWF's Technical Steering Committee (TSC) will "maintain and further develop the project." Developers interested in "learning more or contributing to OpenVDB can sign up to join the mailing list here.
With regard to new members, ASWF announced that Sony Pictures Entertainment/Sony Pictures Imageworks joined as a Premier member, Warner Bros. as a General member and Blender Foundation and Visual Effects Society as Associate members.
Randy Lake, president, studio operations and Imageworks for SPE stated that joining ASWF is "helping to drive the next wave of innovation for our industry." "With increased collaboration, we expect accelerated growth in the development of new technologies and standards for artists and engineers across the industry," he said.
Warner Bros. Pictures production management executive vice president, visual effects Anne Kolbe said that the studio has "long known the value of open source software in the production process," a key decision in joining.
Blender Foundation is the first open source foundation member of ASWF, said Blender Institute director/chair Ton Roosendaal. At VES, chair Mike Chambers noted that, "the work that the VES Technology Committee has promoted through the VFX Reference platform, as well as the representation of the wider VFX community, will continue through our participation in the Technical Advisory Council (TAC)."
The ASWF Governing Board (GB) and TAC also elected new leaders, including ILM's Rob Bredow as GB chair; Epic Games' Morin as executive director, and Animal Logic's Daniel Heckenberg as TAC chair.
Topics:
Academy Software Foundation
,
AMPAS
,
Andrew Pearce
,
Animal Logic
,
Anne Kolbe
,
ASWF
,
Blender Foundation
,
Daniel Heckenberg
,
David Morin
,
DreamWorks Animation
,
Epic Games
,
How to Train Your Dragon
,
Linux Foundation
,
Mike Chambers
,
OpenVDB
,
Randy Lake
,
Rob Bredow
,
Sony Pictures Entertainment
,
Sony Pictures Imageworks
,
Ton Roosendaal
,
Visual Effects Society
,
Warner Bros.