At the TIME 100 Summit in New York, Apple chief executive Tim Cook said that technology needs to be regulated to protect privacy, noting that, "we have to admit that what we're doing isn't working." He suggested to U.S. regulators that Europe's General Data Protection Regulation (GDPR), which was passed in 2018, is "a step in the right direction," and added that Europe should continue to evolve the GDPR. Having taken the helm of Apple from founder Steve Jobs in 2011, Cook has become a prominent Silicon Valley leader.
Time reports that, in an interview with Time editor-in-chief Nancy Gibbs, Cook said that, "there are now too many examples where the no rails have resulted in a great damage to society" and that he doesn't see another path besides regulation. With regard to Apple, he said the company focuses "on policies, not politics," and doesn't have a PAC "because it shouldn't exist."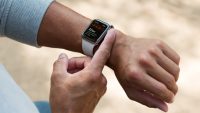 With regard to Apple's emphasis on health devices, such as the latest Apple Watch's built-in EKG, Cook said, "There will be the day that we will look back and say, 'Apple's greatest contribution to mankind was in healthcare'." He explained that Apple isn't motivated to keep users glued to their phones, but instead has "developed tools to help users keep track of the amount of time they spend on their phones."
Cook also pointed out, "At the end of the day [Apple will] be judged more on 'did we stand up for what we believed in', not necessarily, 'do they agree with it.'"
The Verge reports that Cook said that his own company bears responsibility for improving data privacy. "We cannot look for the government to solve all of our problems," he said. In addition to not having a PAC, Cook noted that the company "donates zero to political candidates," expressing his belief that, "individual donations are more transparent than a PAC." Cook gave the example of his public support of the 300+ Apple employees allowed to stay in the U.S. because of the Deferred Action for Childhood Arrivals (DACA).
When Time asked about a study revealing that people "touch their screens thousands of times a day," Cook replied, with humor, "well, you shouldn't be doing that." "If you're looking at your phone more than you're looking at people's eyes, you're doing the wrong thing," he added.
Topics:
Apple
,
Apple Watch
,
DACA
,
Data Privacy
,
EKG
,
Europe
,
European Union
,
GDPR
,
Government
,
Healthcare
,
Human Values
,
iPhone
,
Mobile
,
Nancy Gibbs
,
New York
,
PAC
,
Politics
,
Privacy
,
Regulation
,
Silicon Valley
,
Smartphone
,
Steve Jobs
,
Tim Cook
,
TIME 100 Summit