Apple hosted its latest product keynote event in Brooklyn, New York yesterday. The company introduced its "most creative products" — specifically, a new iPad Pro, MacBook Air and Mac mini. As expected, Apple introduced a redesigned iPad Pro with slimmer edges, a USB-C port, Face ID (and no home button), and more powerful specs. The 11-inch model starts at $799 and the 12.9-inch version at $999. The new MacBook Air with high-resolution Retina display (starting at $1199) is 50 percent narrower than its predecessor, 17 percent smaller, and 10 percent thinner. Made from recycled aluminum, it's also slightly less than 10 percent lighter.
"Imagine a piece of glass that transforms instantly into anything you want it to be," suggested Apple chief exec Tim Cook in describing the new iPad Pro, which uses new Apple A12X Bionic chips for a device that is 35 percent faster than the previous model. The company claims that multi-core tasks are up to 90 percent faster, while graphics performance is now twice as fast.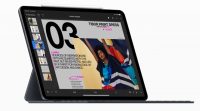 "The new Pro is the company's first iPad not to include a home button, which allowed Apple to extend the screen vertically for a much more immersive experience," notes The Verge. "The bezels have been downsized on all four sides. Like the iPhone XR, Apple is referring to this screen as a Liquid Retina Display. Both sizes offer Apple's ProMotion technology for smooth, fluid display performance. With the removal of the home button, the new iPads will fully adopt the gesture navigation that debuted on the iPhone X."
"The new iPad Pros have four speakers that deliver wider stereo sound, a 12-megapixel camera (capable of 4K/60 video recording), and offer gigabit LTE on cellular models. They'll ship with an 18-watt charger in the box, and Apple says battery life is good for up to 10 hours of continuous use."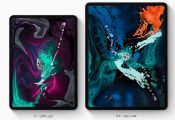 The company unveiled a redesigned Apple Pencil ($129) that connects magnetically to the iPad and charges wirelessly. Apple also updated its Smart Keyboard and renamed it Smart Keyboard Folio ($179).
The new MacBook Air represents "the first full design upgrade of Apple's most popular laptop model since 2010," according to The Wall Street Journal. "Apple's share of PC shipments has hovered at about 10 percent the past three years, at a time when Mac unit sales have fallen 6.5 percent. Apple has offset that with a 23 percent increase in average base prices, to keep Mac revenue roughly flat with where it was in fiscal 2015. Meanwhile, revenue for the iPads that Mr. Cook touted as laptop replacements has declined 40 percent from a peak in fiscal 2013."
"The new Air now supports Touch ID to unlock your Mac or use Apple Pay, a feature Apple previously introduced in the MacBook Pro," reports Recode. "It can drive a 5K external display. Apple is pledging 12 hours of battery life in 'wireless web browsing.'"
As with the new iPad Pro, the new Mac mini is taking preorders now and will begin shipping November 7, explains Recode. "Unlike Apple's laptops, which have been losing their ports, this Mac still has a bunch of them, including four USB-C ports, two USB-A ports, HDMI, Ethernet, etc."
Topics:
4K
,
5K
,
A12X
,
Aluminum
,
Apple
,
Apple Pay
,
Apple Pencil
,
Brooklyn
,
Ethernet
,
Face ID
,
HDMI
,
Home Button
,
iPad
,
iPad Pro
,
iPhone X
,
iPhone XR
,
Liquid Retina Display
,
Mac mini
,
MacBook
,
MacBook Air
,
Retina Display
,
Smart Keyboard Folio
,
Speakers
,
Tim Cook
,
Touch ID
,
USB-A
,
USB-C