In the wake of a recent jury verdict that Samsung had infringed upon three of its patents, Apple is now seeking a sales ban in the U.S. on some older models of Samsung's smartphones. The move also follows an agreement between Apple and Google's Motorola Mobility unit to dismiss patent litigation against each other. However, according to papers filed in a California court, Apple is not looking for such a resolution with Samsung, but has requested a retrial to increase the amount awarded earlier this month and impose a sales ban.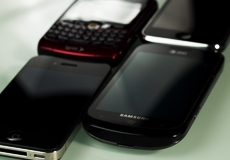 "Apple, which on May 2 won $120 million of the $2.2 billion it sought, identified nine devices it wants barred in a May 23 filing with U.S. District Judge Lucy Koh in San Jose, California," reports Bloomberg.
"Winning a ban may prove difficult for Apple because Koh, who also presided over the companies' first U.S. trial in 2012, twice rejected the iPhone-maker's request in that case, legal experts have said. This time around the jury also concluded that Apple infringed one of Samsung's patents, though the Galaxy-maker hasn't yet requested a ban of Apple products."
Apple is asking the court to impose a sales ban on Samsung devices including the Galaxy Nexus, Galaxy Note, Galaxy Note 2, Galaxy S2, Galaxy S2 Epic 4G Touch, Galaxy S2 Skyrocket, Galaxy S3 and Stratosphere.
"After the jury rejected Apple's grossly exaggerated damages claim, Apple is once again leaning on the court to push other smartphones out of the market," responded Samsung spokesman Adam Yates. "If granted, this would stifle fair competition and limit choice for American consumers."
"Samsung's share of global smartphone shipments in the first quarter of 2014 fell to about 31 percent from 32 percent a year earlier, according to Strategy Analytics. Apple's share fell to about 15 percent from almost 18 percent in the same period, while Chinese producers such as Huawei Technologies Co. and Xiaomi Corp. gained in emerging markets with cheaper, feature-packed devices," notes Bloomberg.
Topics:
4G
,
Agree
,
Agreement
,
Apple
,
Award
,
Block
,
Bloomberg
,
California
,
Claim
,
Court
,
Damage
,
Dismiss
,
Epic
,
Galaxy
,
Google
,
Huawei
,
Infringe
,
Infringement
,
iPhone
,
Judge
,
jury
,
Koh
,
Law
,
Lawsuit
,
Legal
,
Litigation
,
Mobile
,
Mobility
,
Model
,
Motorola
,
Nexus
,
Note
,
Patent
,
Phone
,
Request
,
Retrial
,
Rule
,
Ruling
,
S2
,
S3
,
Sales
,
Samsung
,
San Jose
,
SkyRocket
,
Smartphone
,
Stratosphere
,
Touch
,
Trial
,
Verdict
,
Xiaomi
,
Yates