Apple's fall event was all about bundling, with discounts for customers who sign up for multiple plans with recurring payments. The new Fitness+ package, for example, offers workouts that tie in to "all of your Apple equipment" and an Apple One subscription bundles Arcade, Music, TV+ and iCloud. There was no new iPhone or mention of AR, but the Silicon Valley company did unveil iOS 14, a new Watch, a new iPad, and an upgraded entry-level iPad. Apple is also experimenting with an Express store for product pick-ups.
Engadget reports that the Apple One bundle offers three subscription tiers: an individual plan at $15 per month; a family plan for up to six people and iCloud storage from 50GB to 200GB for $20 per month; and a Premier tier, priced at $30, with 2TB of cloud storage and access to Fitness+ and Apple News+. The first two tiers will be available in 100 countries, but the Premier plan will only be available "to countries where News+ is already available."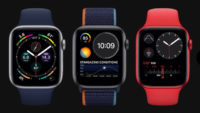 The Apple Watch Series 6 (above), priced at $399 at launch, adds a new health sensor that will provide blood oxygen monitoring within 15 seconds. The Watch 6 is "powered by a new S6 chipset," which will enable it to charge 20 percent faster. It also offers an "always-on display that's 2.5 times brighter than its predecessor."
Also available on September 18 is the $279 Apple Watch SE, with "the same altimeter, compass, accelerometer and gyroscope as the new Series 6," fall detection and emergency SOS — but not the S6 processor or new blood oxygen sensor.
The new 2020 iPad Air, priced at $599 with 64GB and $729 with 64GB and LTE, has a "slightly larger 10.9-inch display, which stretches almost from edge to edge across the iPad's face," a fingerprint sensor instead of the Touch ID sensor, and USB-C. It will be available in October.
The company's 8th generation entry-level iPad, still priced at $329, includes the A12 Bionic chipset for better graphical performance and a Neural Engine for FaceID and Animoji.
Apple's new operating system, iOS 14, will enable many new features, including a picture-in-picture mode for the next iPhone as well as an audio translation feature for Siri, that will "pop up at the top of your screen instead of taking over your entire display." In Messages, the user will be able to pin important conversations at the top; Maps will have cycling directions and improved location-finding features.
The company has also opened Apple Express at its Burlingame, California location. The new store format allows "customers who have pre-ordered a product online … [to], after waiting in line, grab their purchase, while genius bar appointments happen at another window."
The Wall Street Journal reports, with regard to bundling, that, according to FactSet, "services made up more than 20 percent of Apple's sales in the April-to-June quarter, up from about 10 percent in the same period five years ago." It adds, however that, "the new bundling service almost immediately renewed criticism that Apple was unfairly using its power over its platform against competitors," a characterization that Apple continues to deny.
Related:
Apple One Subscription Bundle Is Missing a Key Element: The iPhone, CNBC, 9/16/20
iOS 14 and iPadOS 14 Come Today, Sept. 16. Do This to Your iPhone and iPad Right Now, CNET, 9/16/20
Everything You Need to Know About the iOS 14 Update, CNN, 9/15/20
Where to Buy Apple's New 8th-Generation iPad, Engadget, 9/16/20
Where to Buy the Apple Watch Series 6 and Apple Watch SE, Engadget, 9/16/20
Topics:
A12 BIonic Chip
,
Animoji
,
Apple
,
Apple Arcade
,
Apple Music
,
Apple News Plus
,
Apple One
,
Apple TV Plus
,
Apple Watch SE
,
Apple Watch Series 6
,
Bundling
,
Face ID
,
FactSet
,
Fingerprint Sensor
,
Fitness Plus
,
iCloud
,
iOS 14
,
iPad Air
,
iPhone
,
LTE
,
Maps
,
Messages
,
Mobile
,
Neural Engine
,
Siri
,
Touch ID
,
USB-C