The iPhone 12 Pro Max offers a number of firsts for an iPhone: the largest ever display, at 6.7-inches; the biggest camera sensor ever; a 5G radio and a bigger battery. At the same time, it's not much more expensive than the next level down, an iPhone 12 Pro, with an added $100 for every storage level. The size of the phone — not just the inches but also the heft and weight — might be a downside for some users, but the iPhone 12 also comes with more choices, starting with the compact iPhone 12 Mini.
At The Verge, the reviewer enthuses about the iPhone 12 Pro Max's camera, dubbing it "the best smartphone camera you can get." As with the 12 Pro, the 12 Pro Max has three cameras (wide, ultrawide and telephoto), with a LIDAR sensor "that enables portrait photos on the wide camera in Night mode," which is available on all three zoom levels.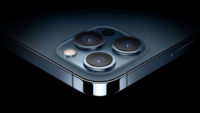 The ultrawide camera is the same on the 12 and 12 Pro and "a noticeable improvement on the 11 Pro." What's different with the 12 Pro Max's main wide camera and telephoto is a 47 percent larger physical sensor that captures more light with less noise. The 12 Pro Max is also stabilized differently, via "sensor-shift stabilization, which moves the sensor itself around to reduce vibrations." The bigger sensor also offers a top ISO of 7,616, compared to the iPhone 11 Pro's top ISO of 3,072, meaning less noise.
The result, says the reviewer is that "the wide camera on the iPhone 12 Pro Max is one of the most confident smartphone cameras I've ever used … [and] can take great photos in a huge variety of situations, and rarely feels pushed beyond its limits." It particularly provides excellent results "when the light gets dimmer." It takes longer to go into Night mode and, when it does, "it does so with shorter exposures than the 12 Pro," which results in a sharper photo.
Compared to photos taken by the Pixel 5 and Samsung Galaxy Note 20 Ultra, the new iPhone 12 Pro Max "consistently took better, more detailed, and less noisy" images.
With regard to video, the 12 Pro Max is "a tiny bit better" than the 12 Pro, which is already "far ahead of the pack." In an earlier article from The Verge, the reviewer highlights the ability of the iPhone 12 line to — out of the box — create Dolby Vision HDR video. That's a big deal, he adds, because "almost every new higher-end TV and phone supports HDR, and most of the major streaming services offer movies and TV shows in HDR."
He adds that the iPhone 12 models offer a newer version of Dolby Vision, Profile 8.4, that is backwards compatible with Standard Dynamic Range (SDR) devices. With regard to the sensor, the reviewer states that, "Apple's approach of pairing a moderate sensor size jump with its focus on improved processing has kept it in the lead." He's also interested in the upcoming reveal of Apple's new ProRAW format "that promises the editing flexibility of RAW images from this sensor with the processing of Smart HDR."
Related:
Apple iPhone 12 Pro Max Review: Better, Not Just Bigger, Engadget, 11/9/20
Apple iPhone 12 Mini Review: For Small Phone Fans Only, Engadget, 11/9/20
Topics:
5G
,
5G Radio
,
Apple
,
Camera
,
Dolby Vision
,
Galaxy Note 20 Ultra
,
HDR
,
iPhone 12
,
iPhone 12 Mini
,
iPhone 12 Pro
,
iPhone 12 Pro Max
,
Lidar
,
Mobile
,
Night Mode
,
Photo
,
Pixel 5
,
ProRAW
,
RAW
,
Samsung
,
SDR
,
Sensor
,
Smartphone
,
Smartphone Camera
,
Streaming
,
Telephoto
,
Ultrawide
,
Video