Apple, Google and Samsung are all vying to dominate the nascent mobile payments market sector. Samsung, a newcomer to the competition, has already signed up five million U.S. users, who have racked up $500 million in transactions since launching in September. Apple Pay is estimated to have 12 million monthly users and Android Pay has five million. Still, adoption of mobile payments hasn't caught fire yet. Not all retailers accept mobile payments, which also require later-generation phones.
Bloomberg reports the number above, as cited by mobile-payment research firm Crone Consulting. Samsung has differentiated its offering by using technology "that mimics a magnetic-stripe card when a phone is used with a store's physical-card reader." That means it can be used everywhere by existing checkout equipment, a big plus for retailers whose terminals can't always take Apple Pay.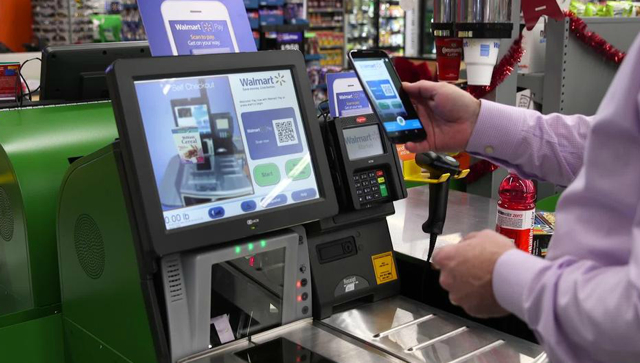 Samsung Pay only works on five of the company's latest Galaxy phones; Apple Pay works with iPhone 6s, iPhone 6s Plus, iPhone 6, iPhone 6 Plus and the Apple Watch paired with an iPhone 5 or newer.
Forrester Research estimates that the mobile payment market will exceed $142 billion by 2019. With sales of smartphones flat, device manufacturers are also using mobile payment as "a way to entice consumers to pick their devices — whether it's an Android phone, iPhone or Galaxy."
Bloomberg says that Samsung, which is suffering decreased earnings, also sees it as a way to "protect market share" against Apple's smartphone sales. Strategy Analytics reports that, by end of 2015, Samsung had 22 percent of the global smartphone market and Apple 16 percent. Apple and Google do not release actual user numbers.
Selling mobile payment systems will, however, depend on selling consumers the idea of using one rather than a credit or debit card. "For widespread adoption, there's got to be something in it for the consumer," said Bloomberg Intelligence analyst David Ritter. Crone Consulting chief executive Richard Crone notes that Apple, Google and Samsung should see their user bases double, as JPMorgan Chase, Walmart and others roll out their mobile wallets.
"They are all moving in the right direction, helping to educate and jump-start the market," he said.
Topics:
Android Pay
,
Apple
,
Apple Pay
,
Apple Watch
,
Bloomberg Intelligence
,
Credit Card
,
Crone Consulting
,
David Ritter
,
Debit Card
,
Forrester Research
,
Galaxy
,
Google
,
iPhone
,
JPMorgan Chase
,
Mobile
,
Mobile Payments
,
Mobile Wallet
,
Retailers
,
Richard Crone
,
Samsung
,
Samsung Pay
,
Smartphones
,
Strategy Analytics
,
Walmart