As an alternative to scanning barcodes, fashion-focused app Craves lets users take photos of clothing and perform searches of similar fashion items that can then be purchased via the app. Co-founder Scott Cormier was inspired to create the app after watching his wife snap photos of clothing she liked with her smartphone so she could research the items later on Pinterest and Google. Craves also features a social component that allows users to follow friends and influencers, track trending items, and receive sale notifications.
"We feel that searching for products with photos and screenshots is drastically easier than trying to find the right keyword combination to plug into Google," said Cormier. "Much in the same way that a picture is worth a thousand words."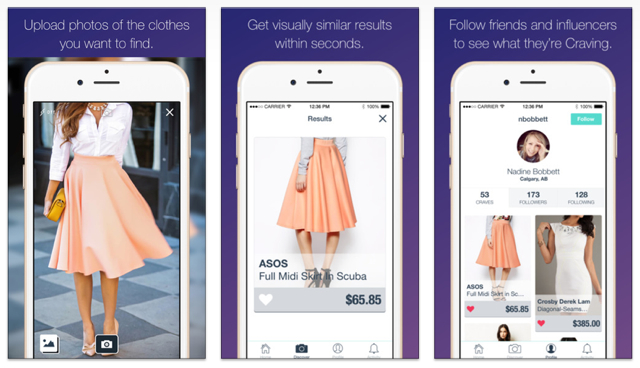 Craves "was incubated within visual search technology Slyce, and now operates as a subsidiary of Slyce, like the company's other consumer apps, including Pounce and SnipSnap," reports TechCrunch. Cormier "says he initially reached out to Slyce founders Cameron Chell and Erika Racicot after hearing about the efforts Slyce was making with visual search, and they decided to build out a prototype of Craves to see if could work."
As Google Shopping is being challenged by visual bookmarking service Pinterest, product discovery can be hampered by shared images that have become outdated and subsequently lead to bad links, out-of-stock inventory or unknown retailers. The free Craves app connects shoppers directly to trusted retailers.
The product currently features clothing from a variety of department stores and boutiques including ASOS, Coach, Forzieri, Lord and Taylor, Mango, Nasty Gal, Neiman Marcus, Saks Fifth Avenue and others.
While the app currently receives affiliate revenue, the company is looking to expand into other revenue streams. Craves is also working to create a checkout experience that does not need to send shoppers to the retailer's mobile site.
Topics:
App
,
ASOS
,
Camera
,
Cameron Chell
,
Clothing
,
Coach
,
Craves
,
E-Commerce
,
Erika Racicot
,
Forzieri
,
Google Search
,
iTunes
,
Lord and Taylor
,
Mango
,
Mobile
,
Nasty Gal
,
Neiman Marcus
,
Photo
,
Pinterest
,
Pounce
,
Retail
,
Saks Fifth Avenue
,
Scott Cormier
,
Shopping
,
Silver Jeans
,
Singer22
,
Slyce
,
Smartphone
,
SnipSnap
,
Social Media
,
Yook