Magic Leap says its newly released Magic Leap One Creator Edition mixed reality glasses are "like living in the future ahead of everyone else." Journalists got a sneak peek of the mixed reality "Angry Birds" on the Magic Leap goggles. On October 9-10 at the first L.E.A.P. developers conference in Los Angeles, the company will show off more apps and more of the interface. One reviewer added that the company is "taking a leap of faith" that the applications will be compelling enough to convince many users to shell out $2,295.
VentureBeat reports that, in "Angry Birds FPS: First Person Slingshot," "when you look through the glasses, you can see a three-dimensional pig's fortress in animated form." "It's an exciting device and it was fun to work on this project," said Resolution Games chief executive Tommy Palm, whose company built the game in collaboration with Rovio.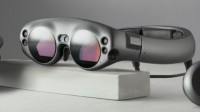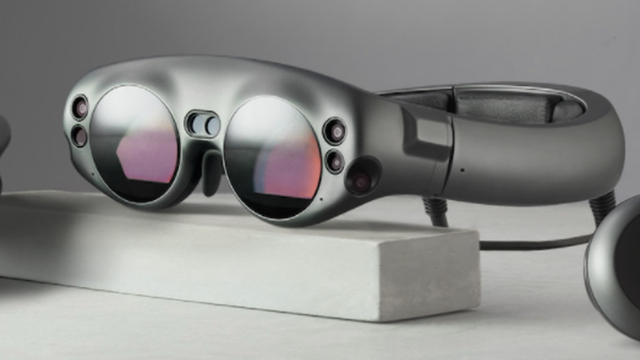 The headset handles occlusion well, and the gameplay is interesting because "the fortress is in 3D, and, while wearing the glasses, you can walk around it, 360 degrees, and see the animation from every angle." But there are issues, including the fact that the fortress doesn't cast a shadow (unlike the pig), which doesn't matter for this game's cartoon style, but would matter if the augmented reality layer was photoreal.
The reviewer was able to see his companions watching him play, making it "far different from virtual reality, where you feel cut off from the outside world." The Lightpack processing unit got hot in his pocket, presumably causing the device to crash once. Rovio and Resolution Games are planning for a fall 2018 release of the game.
A reviewer at TechCrunch also tried out "Angry Birds FPS: First Person Slingshot." "The mechanics are pretty familiar in that you're trying to knock over a little tower of blocks and the green pigs that inhabit their far reaches," he said. "What's unique is that the tower is now stacked on your coffee table that you can approach from any angle and the Magic Leap controller is your slingshot that you can aim a lot more precisely as a result."
According to the Resolution Games team, "Magic Leap's positionally tracked controller … really opened up the headset to develop something like a full gaming title." The title "isn't groundbreaking … it felt like a mobile game, if only one that allowed you to visualize the mobile content overlaid on the world in front of you," added the reviewer.
His conclusion? "Magic Leap One may not be the headset everyone wanted it to be — or what the company told us it would be — but judging by the first big title coming to it, it seems like it gets enough right that developers are going to have a fun time with it even if it is just a labor of love for them right now."
Topics:
360 Degree
,
3D
,
Angry Birds
,
Animation
,
Apps
,
Augmented Reality
,
Gaming
,
Glasses
,
Headset
,
L.E.A.P.
,
Lightpack
,
Los Angeles
,
Magic Leap
,
Magic Leap One
,
Magic Leap One Creator Edition
,
Mixed Reality
,
Mobile Game
,
Positional Tracking
,
Resolution Games
,
Rovio
,
Sweden
,
Tommy Palm
,
Virtual Reality