Advanced Micro Devices (AMD) has acquired Nitero, a startup responsible for a 60-gigahertz wireless chip that transmits high-res video without latency. AMD, which bought the company for an undisclosed price, believes that Nitero's chip will enable it to push sales of more wireless virtual reality headsets. Sales of VR headsets, according to AMD executive Roy Taylor, have been limited due to their need to be tethered to a computer. Nitero was originally a spinoff from a research center sponsored by the Australian government.
According to Bloomberg, Taylor says AMD can now "offer an end-to-end solution for virtual reality and augmented reality, encompassing everything from the computerized brains that process the video, layer it with other digital content, control memory storage and now enable that video to be transmitted wireless[ly]."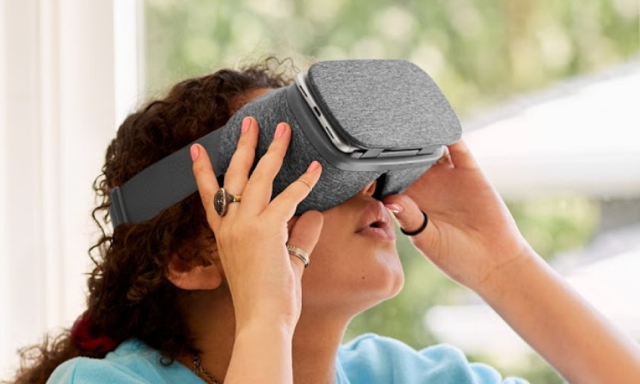 In response to the charge that VR has been over-hyped, Taylor responded that it has been adopted much more rapidly than expected in such fields as architecture and medicine.
AMD, based in Sunnyvale, California is betting that VR and AR will "lead to higher demand for the company's high-end graphics processing units and central processing units," and, to that end, has "helped sponsor virtual reality films, games and stand-alone experiences."
"Anything that is good for VR is good for AMD," said Taylor, who states that an estimated 23 million room-based VR headsets will be sold by 2020, with consumers buying 122 million mobile-based VR headsets such as Google's Daydream. AMD has also partnered with numerous VR experiences located in places like shopping malls.
Noting that high frame rates are necessary to prevent nausea, Taylor reports that "chipmakers will soon overcome this technical hurdle," with solutions such as Nitero's super-fast Wi-Fi. "The competition between us at AMD and Nvidia and Infineon is fierce and we are going to produce better and better GPUs and CPUs," he said. "Don't think about rendering today, think what rendering will be like in one to three years from now."
Topics:
Advanced Micro Devices
,
AMD
,
Augmented Reality
,
Australia
,
Chips
,
CPUs
,
Gaming
,
Google Daydream
,
GPUs
,
HFR
,
High Frame Rate
,
Infineon Technologies
,
Latency
,
Memory
,
Mobile
,
Movies
,
Nitero
,
Nvidia
,
Rendering
,
Research
,
Roy Taylor
,
Storage
,
Video
,
Video Games
,
Virtual Reality
,
VR Headsets
,
Wi-Fi
,
Wireless