BMO Capital Markets released a report that quantifies the impact of Amazon's Prime Video Channels service on the pay-TV industry. It revealed that Channels will generate $1.7 billion in revenue in 2018, compared to last year's $700 million. Further, BMO Capital predicts that revenue will more than double to $3.6 billion in 2020. That's good news for Channels' partners, who stand to earn an estimated $1.2 billion this year, and $2.5 billion in 2020, based on Amazon sharing an average 70 percent of subscription fees.
Variety reports that, according to BMO analysts Daniel Salmon and William Lowden, Prime Video Channels is "a material driver of standalone [over-the-top] subscribers for many entertainment companies, representing anywhere from 25 percent – 45 percent of total OTT users depending on the channel."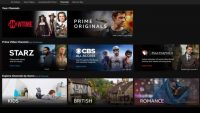 Among the 156 channels that Prime Video Channels currently offers are CBS All Access, WarnerMedia's HBO, Cinemax, and Boomerang; Lionsgate's Starz; PBS Kids and Masterpiece; Viacom's Noggin and Comedy Central Now; Hallmark Movies Now; Lifetime Movie Club; Tribeca Shortlist; BBC/ITV's Britbox; CuriosityStream; Cheddar; and AMC Networks' Urban Movie Channel, Acorn TV, Sundance Now and Shudder.
Amazon stated it now has more than 100 million Prime members around the world, but didn't offer any breakdown of that number. One of the reasons for its popularity is that Amazon "removes friction from the OTT-subscription process, letting customers purchase access to a channel with a few clicks and by integrating the video services into a unified service available across several hundred devices."
Although that's ideal for its many partners, the trade-off is that "Amazon takes anywhere from 15 percent – 50 percent of the channel subscription fees (estimated to be 30 percent on average), with bigger players like HBO and Showtime gaining more favorable splits."
By partnering with Prime Video Channels, partner media companies also lose their direct customer relationship as well as the kind of data they're able to collect. In the balance, however, media partners "earn more from distributing their OTT services through Prime Video Channels than from deals in which their channels are bundled into traditional pay-TV or 'virtual MVPD' Internet services, like Sling TV, YouTube TV, DirecTV Now or Hulu with Live TV, according to BMO's analysis."
Amazon continues to expand access to Prime Video, most recently with Comcast, the U.S.'s biggest cable operator, which is debuting Amazon Prime Video to Xfinity X1 subscribers. The company first introduced its Streaming Partners Program in December 2015 with about 20 partners. Since then, it's launched Prime Video Channels in the U.K., Germany, Austria and Japan. BMO analysts said Amazon could next debut the service in France, Spain, Italy, Canada and India.
Topics:
Amazon
,
AMC Networks
,
BBC
,
BMO Capital Markets
,
Boomerang
,
CBS All Access
,
Cheddar
,
Cinemax
,
Comcast
,
Comedy Central
,
Daniel Salmon
,
David Salmon
,
DirecTV Now
,
HBO
,
Hulu with Live TV
,
Lionsgate
,
MVPD
,
Noggin
,
OTT
,
Pay TV
,
PBS Kids
,
Prime Video Channels
,
Showtime
,
Sling TV
,
Starz
,
Subscription
,
Viacom
,
WarnerMedia
,
William Lowden
,
Xfinity X1
,
YouTube TV