Amazon's first smartphone, to be released this summer, is expected to offer a unique wireless data plan called "Prime Data." The phone will feature hardware-assisted 3D effects, four low-power infrared cameras to track the user's head in relation to the display, and new no-touch gesture controls. It is possible that Amazon's phone could be made exclusive to AT&T in the U.S., which would result in the first deal based on the "Sponsored Data" program.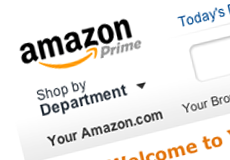 According to BGR, "Sponsored Data is a program that allows companies to foot the bill for data traffic used by specific apps and services on customers' devices. Any cellular data consumed while using apps covered by the program does not apply toward a subscriber's monthly data cap."
If this is the case, BGR speculates that Amazon would then offer Prime services for free to the smartphone buyers. Amazon recently increased its fee for Prime from $79 to $99, which may help to cover the cost of Prime Data.
Despite the features Amazon has released regarding the smartphone, Prime Data remains the major selling point.
BGR also explained, "Other theories floated by our sources include a simple discount plan that will offer significant savings compared to typical smartphone data plans, or perhaps a deal that will give users free data for a certain number of months after their initial purchases. The latter idea has been tossed around for years, though our sources believe it to be unlikely."
Topics:
3D
,
Amazon
,
Apps
,
AT&T
,
Big Data
,
Camera
,
Data Cap
,
Devices
,
discount plan
,
free data
,
Gesture Controls
,
Infrared Cameras
,
Mobile
,
Monthly
,
Phone
,
Plan
,
Prime
,
prime data
,
Program
,
Rate
,
Smartphone
,
Sources
,
Sponsored Data
,
Subscribers
,
Summer
,
Traffic
,
US
,
Wireless