E-commerce giant Amazon is readying the October launch of its own Fire TV sets featuring its Alexa voice assistant. The Amazon Fire TV Omni Series 4K, which starts at $409.99, and the Amazon Fire TV 4-Series 4K, which starts at $369.99, will be available on Amazon's website and at Best Buy stores. Toshiba and Insignia, Best Buy's house brand, have sold TVs powered by Amazon's Fire TV operating system, the latter since 2018. Amazon adds TVs to its other branded products including clothing, groceries and even batteries.
The Wall Street Journal reports that Amazon even "plans to operate several department stores that will feature its private-label brands." With TVs, Amazon "is taking on a segment of electronics known for low margins that have dissuaded some competitors," including Apple, which "spent years studying the potential for an Apple TV but has so far only developed a streaming device and the video service Apple TV+."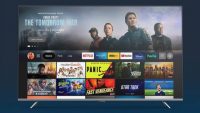 Whereas Apple "has long targeted opportunities to integrate hardware and software to make products where it can command hefty premiums and profit margins … Amazon, meanwhile, historically has sought market share over profit and to appeal to customers with lower prices."
At Loup Ventures, analyst Gene Munster noted that the Amazon TV "speaks to Amazon's product road map — anything customers spend time on, they want to take a shot at." "There will be a market for cheap, good tech," he added. Amazon reported that its Omni Series TVs will feature Alexa with "far-field voice controls" enabling users to ask questions without a remote.
The TVs will be available in "sizes ranging from 43 inches to 75 inches diagonally and will have 4K resolution." The Fire TV 4-Series "will support Alexa capabilities available through its Alexa Voice Remote … [and] be available in 43-inch, 50-inch and 55-inch models."
Amazon Entertainment Devices and Services vice president Daniel Rausch said the TVs will "build on the company's effort to bring ambient computing to people's homes." The Omni series will turn on with a wake word, for example.
WSJ notes that, "Congress is weighing bipartisan legislation that seeks to split large corporations such as Amazon in two or force them to shed their private-label products." Meanwhile, Amazon continues its partnership with Toshiba, announcing new Fire TV-powered sets with that company and Pioneer, and saying that "it doesn't use confidential information that other firms share with it to build competing products."
CNBC reports that, "competitors like Roku and Google have followed a similar path with plug-in sticks and third-party manufacturers … but Amazon is the first of those to launch its own TV." It notes that, with its own TVs, Amazon can set its own price, potentially undercutting "competitors the way it does with its Fire tablets, which sell for a fraction of the price of Apple's iPads."
The set-up is also "frustration-free" and the TV, as long as the owner has connected any Amazon device to Wi-Fi, will automatically connect to the home network.
Topics:
4K
,
Alexa
,
Alexa Voice Remote
,
Amazon
,
Amazon Fire TV
,
Apple
,
Apple TV
,
Apple TV Plus
,
Best Buy
,
Daniel Rausch
,
E-Commerce
,
Fire TV
,
Fire TV 4-Series
,
Fire TV Omni
,
Gene Munster
,
Google
,
Insignia
,
iPad
,
Loup Ventures
,
Pioneer
,
Retail
,
Roku
,
Streaming
,
Television
,
Toshiba