Amazon plans to release a video streaming device in time for the holiday shopping season. The set-top box, which will reportedly look similar to a Roku player, will feature a platform that runs apps and content from a variety of sources. Amazon has approached multiple app developers and cable TV providers with the hopes of attaining partnerships. The device will be a vehicle for Amazon's expanding video streaming service that puts the company in competition with Netflix.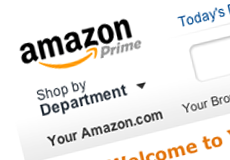 "Plans for a device that would stream video were reported in April by The Wall Street Journal and other media outlets. Such a set-top box would broaden Amazon's reach into the living room, where today it is dependent on other hardware makers to reach consumers watching video on TV sets. Providing a device of its own is a potentially crucial component to Amazon's ambition of expanding beyond its core online marketplace business," explains The Wall Street Journal.
At present the set-top box does not have a release date, nor does it have an estimated price. Amazon CEO Jeff Bezos claims that he likes to sell products at close to the manufacturing cost and then make profit through the sale of services available through the hardware.
"Roku sells its set-top devices for as little as $50, while Apple Inc. offers its Apple TV for $99. Such devices reach the Internet using Wi-Fi or Ethernet connections, through which video and music can be streamed to televisions. Subscriptions to streaming video or music services like Netflix and Pandora Media Inc. cost extra," reports WSJ.
A major reason why Amazon wants to release the set-top box is to boost its Prime membership. "The $79-per-year service offers thousands of movies and television shows for streaming, as well as two-day shipping on many items and, analysts say, compels users to buy more goods through Amazon."
While Amazon may release a remote control, the box can also be controlled with apps on smartphones and tablets. Bezos has demonstrated aspects of the Kindle Fire that allow it to function like a remote control.
"Streaming video has been an increasing focus for Amazon, which has been racing to distinguish itself from rivals Netflix, Hulu LLC and others with exclusive content deals and a slate of television pilots that are set to become available starting later this year," notes the article. "That mirrors a similar strategy by Netflix which has won acclaim for its proprietary series, like 'Orange Is the New Black' and 'House of Cards,' which garnered an Emmy nod."
Amazon users can currently stream content through smart TVs, devices like the Roku player, or game consoles such as Microsoft's Xbox. With its own streaming player, Amazon could collect additional customer data and attract new apps.
"If Amazon can produce a box that will have a truly complete package of streaming sources, that would be very compelling," said Michael Pachter, a Wedbush Securities analyst. "This fits into their vision of dominating the competition in every area."
Amazon is also reportedly planning two smartphones and an audio-only streaming device.
Topics:
Amazon
,
App
,
Apple
,
Competition
,
Entertainment
,
Gaming
,
Hardware
,
Hulu
,
Jeff Bezos
,
Kindle
,
Kindle Fire
,
Movie
,
Music
,
Netflix
,
Online
,
Pachter
,
Partnership
,
Premium
,
Prime
,
Remote Control
,
Roku
,
Set-Top Box
,
Smartphone
,
STB
,
Stream
,
Streaming
,
Subscribe
,
Subscription
,
Tablet
,
TV
,
Video
,
Video Streaming
,
VOD
,
Wedbush
,
Xbox