The Amazon Echo lineup continues to dominate the smart speaker market with a 63 percent share in the U.S., according to an online consumer survey conducted during July and August by Strategy Analytics. While Amazon models represent the majority of smart speakers currently in use, Google follows at 17 percent and Apple trails at 4 percent. The survey found that 88 percent of U.S. homes with smart speakers currently have at least one Amazon speaker, and 31 percent indicate they have at least one Google speaker. Additionally, 58 percent of households with smart speakers are already using two or more devices.
The most popular spaces for smart speakers today include the family room (62 percent), bedroom (61 percent), kitchen (39 percent), and bathroom (12 percent).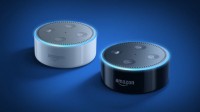 "Although sub-$50 options have generated lots of interest over the past year, the market isn't completely controlled by cheap speakers," notes VentureBeat. "Amazon's standard Echo was the survey's most-used speaker with 23 percent share, followed by the less expensive Dot at 21 percent. Google's Home had 8 percent share to the cheaper Home Mini's 7 percent. Amazon's Echo Plus had 5 percent share, with Spot, Show, and Dot Kids Edition all at 4 percent."
In regards to premium offerings, "Apple's $349 HomePod held a 4 percent share, twice that of Google's $399 Home Max."
Strategy Analytics points out that only 17 percent of consumers are presently using smart speakers, but "satisfaction levels are in the 90 percent range" and "nearly two-thirds of users plan to buy another smart speaker in the next two years," reports VentureBeat.
In addition to the big three manufacturers, the survey learned that consumers are also interested in audio options from companies including Bose, Samsung, and Sonos.
Adobe Analytics predicts smart speaker ownership will increase to 48 percent of U.S. consumers after the holiday season. The Adobe forecast suggests smart speakers will be popular gift items this season with 23 percent of speaker owners and 9 percent of non-owners planning to purchase devices for other people.