Although rumors are swirling that Amazon plans to open a global shipping and logistics operation to compete with both FedEx and United Parcel Service, the company's chief financial officer Brian Olsavsky said that Amazon is merely looking to supplement its shipping partners during busy periods such as Christmas. But Amazon might actually have more ambitious plans than Olsavsky is willing to admit. A 2013 report targeting Amazon senior management actually proposes a major expansion of its Fulfillment By Amazon.
Bloomberg dug up that report which "envisions a global delivery network that controls the flow of goods from factories in China and India to customer doorsteps in Atlanta, New York and London." One source familiar with the so-called Dragon Boat project says it will not only turn Amazon into a rival of its current partners, FedEx and UPS, but also of Alibaba Group Holding.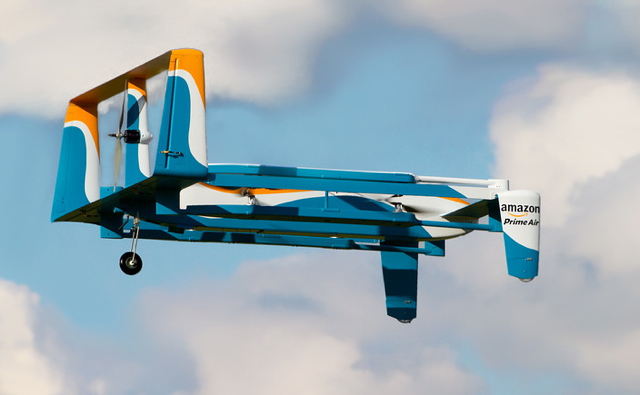 More proof that Amazon is moving forward was a blog post from San Francisco logistics company Flexport noting that Amazon's Chinese subsidiary registered in the U.S. as a Non-Vessel Operating Common Carrier, which means Amazon can provide ocean freight services to other companies. Amazon has also been considering leasing 20 Boeing 767 freighter jets, said a person familiar with the plans.
Up for grabs is a global e-commerce market that research firm Accenture and AliResearch, Alibaba's research arm, pegged in a June report as growing to $1 trillion serving 900 million shoppers by 2020. Although Amazon's plans are currently under the wire, the company apparently plans to launch "Global Supply Chain by Amazon" possibly this year. By doing so, Amazon hopes not simply to beat UPS and FedEx at their game but bypass "legions of middlemen who handle cargo and paperwork associated with transnational trade."
What Amazon hopes to offer is what they describe as "one click-ship for seamless international trade and shipping."
"The ease and transparency of this disintermediation will be revolutionary and sellers will flock to FBA given the competitive pricing," says the report. Bloomberg notes that Amazon plans to partner with third-party carriers to build out the enterprise but then "gradually squeeze them out once the business reaches sufficient volume and Amazon learns enough to run it on its own."
"This is classic Amazon fashion," says Robert W. Baird & Co. analyst Colin Sebastian, who predicts that Amazon's entry into global logistics could become a $400 billion business. "They take baby steps along a long path, which allows some companies that could be disrupted to remain in a sense of denial. Amazon rarely takes one big step forward that shocks the market."
Bloomberg points out the analogy in Amazon's move into cloud services, which was developed internally and "gradually expanded into a commercial enterprise that's now Amazon's fastest-growing and most profitable division." Without any big announcements, Amazon marketed directly to software developers and has left Hewlett Packard, Dell and Microsoft playing catch-up.