Amazon will ship a touchscreen version of its Echo speaker, the Echo Show, on June 28. Now available for pre-order at $229.99 or two for $360, Echo Show has the same capabilities as the first Echo, with the Alexa voice assistant, but adds a built-in display that shows information generated by Alexa queries. Users who have the Alexa app can make or receive a video call through Show; a new "Drop In" feature lets friends and family make a call at any time, and the call receiver has 10 seconds to reject it or switch it to audio-only.
The Verge reports that the eight microphone Echo Show, "as with most Amazon products … works best with the company's own services." For example, the display can also be a digital photo frame for pictures stored on Prime Photos, and it will scroll the lyrics of a song from Amazon Music.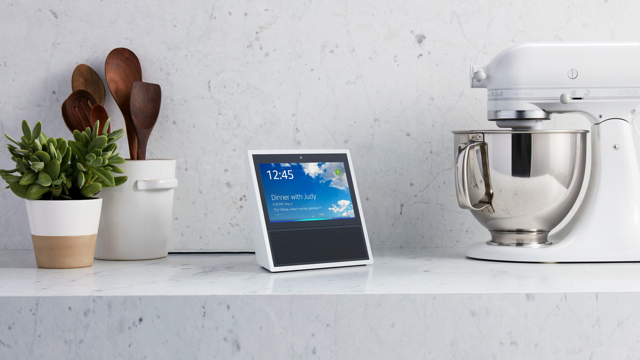 According to Amazon, Echo Show "can also be connected to Wi-Fi-enabled security cameras, letting users check their video feed with commands like 'Alexa, show me the front door'." Echo Show will be available in white or black and weighs 41 ounces, or "nearly 1.1 kilos," notes TechCrunch.
The Wall Street Journal adds that company employees beta tested Echo Show for a few months. In the race to dominate the field of speakers using digital assistants to "eventually run homes, cars and offices," says WSJ, Alphabet's Google Home is Amazon's biggest competitor. Echo Show is the first to include a screen, and WSJ predicts that Amazon is "expected to announce a broader rollout of telephone services for Echo devices within the next few weeks."
The Echo currently is No. 1 in the voice-enabled speakers sector, with a 70.6 percent share, says eMarketer.
According to WSJ, Microsoft just unveiled a smart speaker, the Invoke, which uses Microsoft's Cortana digital assistant and was made by Samsung's Harman Kardon unit. Invoke, which will debut this fall, will also make phones calls as well as "play music, check traffic and let users try out smart-home capabilities such as turning on lights with voice commands."
Harman senior vice president of consumer audio Dave Rogers says Invoke "will have superior audio quality … and tap into Microsoft's productivity applications, such as calendars." Invoke is also integrated with Microsoft's Skype. No price has been disclosed for Invoke, which looks similar to Echo and also comes in white or black.
WSJ notes other upcoming competition in the voice assistant market, from Apple, which is reportedly "working on a smart-speaker device that uses its Siri digital assistant," and Samsung, which developed its voice-activated virtual assistant, Bixby, although the English-language version has not yet reached the market.
Related:
With New Echo Speakers, Amazon Lets You Ask Alexa to Phone Mom, The New York Times, 5/9/17
Here's How Amazon's Echo Show Works (VIDEO), TechCrunch, 5/9/17
Third Parties Have Always Been the Key to Amazon's Smart Home Domination Plans, TechCrunch, 5/6/17
KGI: Apple Likely to Announce 'Home AI' Siri Speaker at WWDC, Positioned as High-End Amazon Echo Competitor, 9to5 Mac, 5/1/17
2017 Ford Fusion Energi Is the First Car With Alexa, The Verge, 5/1/17
Scripps Brings Local News to Amazon Alexa, TVNewsCheck, 5/3/17
Topics:
Alexa
,
Alphabet
,
Amazon
,
Amazon Music
,
Apple
,
Bixby
,
Cortana
,
Dave Rogers
,
Digital Assistant
,
Echo
,
Echo Show
,
eMarketer
,
Ford
,
Google Home
,
Harman Kardon
,
KGI
,
Microsoft Invoke
,
Samsung
,
Scripps
,
Security
,
Siri
,
Skype
,
Smart Home
,
Speaker
,
Touchscreen
,
Video Calls
,
Virtual Assistant
,
Voice Assistant
,
Wi-Fi