AI startup Dumme (pronounced "dummy") is generating prerelease fervor, with hundreds of creators signing up for a test and a waitlist topping 20,000 for the video editing platform, which automates creation of short-form videos from long-form fare. The Y Combinator-backed company has raised $3.4 million in a seed round following its 2022 launch. Dumme's pitch is two-fold: you don't have to be a genius to use it, and the AI-generated results will be better than what a human could achieve manually when it comes to trimming long-form YouTube content for short-form platforms like TikTok, YouTube Shorts and Instagram Reels.
The app went viral, crashing the servers, after a TikTok creator posted about the product, sending a flood of traffic to the site. "The next morning, we probably woke up to 5,000 people in there" Dumme co-founder and CEO Merwane Drai told TechCrunch, adding "it actually never calmed down from that."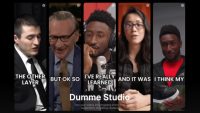 The company got its start in Y Combinator's Winter 2022 accelerator program, where Drai and partners Will Dahlstrom and Jordan Brannan (CPO and CTO, respectively) were originally aiming to build a search engine for video, but subsequently decided a product that leveraged the AI models they were developing to simplify and speed video editing would be a better product-market fit.
The company chose to require YouTube as the long-form content source (rather than supporting raw video footage) "in order to outsource content moderation," rationalizing that "if it's allowed on YouTube, it's allowed," writes TechCrunch.
To use Dumme, users paste a YouTube video link into the app, then click "generate." "The AI will output a number of short videos showcasing highlights from that ingested content," TechCrunch explains.
Processing time and the quantity of resultant clips is contingent on the original video's length, but typically an hour-long video will take roughly 20 minutes to process, with the first clip generating after about five minutes. The clips — which by default are each less than 60 seconds — can then be downloaded and posted on platforms that accept short videos.
Dumme relies on various models, including GPT-4 and a customized version of Whisper, in addition to others created by the founders, including one that tracks active speakers. "The team is also experimenting with an open source model, LaViLa from Facebook Research, to better understand the context of the video," TechCrunch explains, noting the models are hosted through GPU cloud provider CoreWeave.
Because the platform relies mainly on spoken words to analyze and process the video, it is not currently effective in editing content without much dialogue, such as video gameplay.
Dumme is part of a wave of AI tools to automate production processes. Roll, which generates virtual camera moves, is another. Marktechpost provides a roundup of more than 15 new video-generator tools, including Dubverse and Story Bard.
Related:
These Are the 5 Best AI-Led Video Editing Solutions, Screen Rant, 4/1/23
10 Best AI Tools for Business: June 2023, Unite.AI, 6/3/23
Best AI YouTube Video Editing Software, Influencer Marketing Hub, 5/4/23
New AI Editing Tool Picks Your Best Takes for You, TechRadar, 6/1/23
Adobe Launches AI-Powered Text-Based Video Editing, VentureBeat, 4/13/23
How to Use AI to Edit and Generate Stunning Photos, The New York Times, 6/2/23