Roll, a new app for web and iOS, puts an AI spin on timeworn video capture and editing techniques, delivering virtual bokeh, motion graphics and multicam shots, as well as sliders, cranes, dollies and jibs. As the latest consumer artificial intelligence entry, Roll professes to empower anyone to create professional-quality remote video quickly using just an iPhone and Roll's proprietary software. The Roll app is free to use, with the whole platform offered as a free trial with a paid subscription option. Roll lets users record broadcast-quality remote video calls, add generative AI special effects, and publish quickly.
Roll AI "allows users to add simulated video effects to iPhone footage that would typically require professional camera equipment to achieve, such as stabilized pan or crane shots," reports The Verge, calling it among the latest "in a boom of new apps and services that utilize AI to simplify technical creative processes."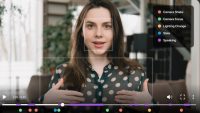 Roll AI relies on its own generative AI models "to recreate the filming environment in iPhone footage as a 3D space, allowing users to add text overlay effects and simulate side-panning, dolly, and crane camera movements in post-production and apply various studio effects like bokeh (background blur)," The Verge explains.
The platform also automates the editing process for fast publishing. "Roll captures metadata from audio and video recordings that the Roll editor later uses to reframe hosts and create scene changes based on any on-screen conversations," according to The Verge.
The company combines two products to form the Roll editing platform: one is the iOS app that relies on the iPhone camera to capture video and upload footage to the cloud for processing and storage; the other is a web-based app that allows previewing, editing, and downloading of the recorded footage.
"Roll says it's the only remote video calling service that records footage in High Efficiency Video Coding (HEVC), which provides substantially higher video quality compared to other video compression standards at the same bit rate," The Verge reports, noting that "Roll claims that videos recorded on its platform are 'sharper than anything on the market for iPhone capture.'"
Each session for recording supports a single host and up to eight call participants.
"Roll is focusing on the 'prosumer' market like consumers, independent content creators, podcasters, and influencers who are creating their own content," writes Newsshooter, which says it's suitable for "video podcasts, executive interviews, customer testimonials, webinars, fireside chats, virtual conferences, or anywhere where you'd hire a professional video production company or invest in high-end camera equipment to produce professional videos."
Related:
Roll Wants to Recreate Dolly Shots and More Using Generative AI, TechCrunch, 5/31/23
Topics:
App
,
Artificial Intelligence
,
Bokeh
,
Cloud
,
Cloud Storage
,
Cloud Workflow
,
Crane Shot
,
Creator
,
Dolly
,
Editing
,
Generative AI
,
HEVC
,
Influencer
,
Internet
,
iOS
,
iPhone
,
Motion Graphics
,
Multicam
,
Production
,
Prosumer
,
Publishing
,
Roll
,
Special Effects
,
Storage
,
Video
,
Video Call
,
Video Capture
,
Video Editing
,
Video Recording