Wearables made a surprisingly robust showing at the 2014 International CES. At the next Consumer Electronics Show in January, a Wearables Marketplace (Sands, Level 2) will gather companies providing products from "high-tech fashion and smart jewelry to wearables that track your mood, activity and even your pets, as well as the newest augmented reality devices." Other wearable providers will be found in the Smart Watches, Health & Wellness and Sports Tech Marketplaces, all located in the Sands Expo.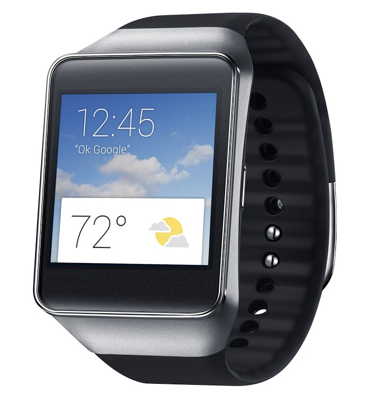 More wearables on the CES exhibit floor parallels their rising popularity in the marketplace. According to PricewaterhouseCoopers (PwC), sales of wearables could reach 130 million units by 2018. A Parks Associates report also notes that, "smartwatches [and connected CE entertainment devices, such as game consoles and streaming media devices] will be this holiday season's most popular electronic gifts." Approximately 37 percent of smartwatch sales are gifts, added Parks.
A quick look at manufacturers of wearable devices at the 2015 CES reveals that, as in 2014, devices will largely be focused around watches, wristbands and eyewear. This year, for example, Intel, Jabra, Atlas and Scosche will all show earbuds, armband monitors and wristbands, all of which have licensed Valencell performance biometric data sensor technology.
I1Biometrics (Booth #73966) tackles the high profile issue of concussions in football with "the first mouth guard designed to accurately measure the linear and rotational accelerations of head impacts during sports and training activities." The Vector MouthGuard provides real-time data to anticipate how an athlete absorbs impact during in-game play to maximize training and performance. Much as heart rate, power output, pitching speed and other performance data are part of broadcast sports, it is possible to imagine impact data adding another dimension to coverage.
When it comes to smart glasses, however, Juniper Research dampened enthusiasm, predicting sales of only 10 million units per year by 2017, due to lengthy time to market and lack of compelling consumer use cases.
A live runway fashion show hosted by Nick Verreos of "Project Runway" will showcase tech-enabled apparel on January 7th at 10:00 am, 1:00 pm and 2:30 pm in the WebMD Wellness Lounge (Booth #73110).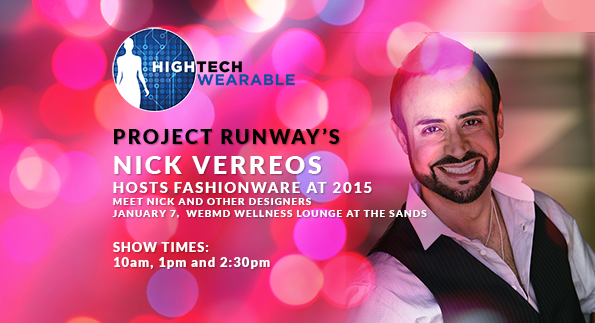 "A perfect example of next-generation wearable tech is Cityzen Sciences' project, codename D-Shirt. Sensors which detect movement, heart rate, speed, breathing patterns, and GPS location are woven into the fabric of this high-tech shirt, which should go on sale in 2015," reports Digital Trends, adding "it's not the shirt that makes this important, it's the fabric. By perfecting such a new forms of fabric, the technology that makes wristbands so popular may weave itself into our clothes."
Intel's Edison Chip, introduced last year and seen in prototypes for an infant's onesie, is beginning to make its way into grown up designs. Dressing smart won't be just a compliment. The Synapse Dress by Anouk Wipprecht, for example, interprets brainwaves and sensors to change the garment's color based on mood, situation – business or pleasure, or environment (check out a video featuring the dress on Vimeo).
Another futuristic look into the potential of wearables comes from Scott Jordan of SCOTTeVEST, a jacket/vest concept that includes speakers, microphones, LTE hub, fractal antenna, solar panels, sensors for health and fitness, and kinetic power generators (pictured right). Jordan will be at CES promoting a book he wrote on the topic.
Whether or not Jordan's jacket comes to market, he's not the only one looking at the future implications of wearables. In another PwC report, 82 percent of respondents were concerned that wearables would invade their privacy, in particular making them more vulnerable to data security breaches. At the same time, 75 percent of respondents said that wearables are likely to make them more productive and efficient at work.
Wearables also raise privacy concerns for employers, said global IT association ISACA, which found that "few workplaces worldwide are ready for the invasion of wearable technology and other connected devices." Of the members surveyed, 56 percent said that their "bring your own device" (BYOD) policy does not address wearables.
Living in Digital Times has several conference sessions scheduled throughout the week at the Venetian, where wearable tech will be among the topics. ETC's reporting team will be reporting live from Las Vegas on wearables and much more.
Topics:
2015 CES
,
Anouk Wipprecht
,
Atlas
,
Augmented Reality
,
CEA
,
Cityzen Sciences
,
Consumer Electronics Show
,
Earbuds
,
Fashion
,
Fitness
,
Game Consoles
,
Health
,
I1Biometrics
,
Intel
,
ISACA
,
Jabra
,
Juniper Research
,
Nick Verreos
,
Parks Associates
,
PricewaterhouseCoopers
,
Scosche
,
Scott Jordan
,
Smart Jewelry
,
Smartwatch
,
Sports
,
Streaming Media
,
Valencell
,
Vector MouthGuard
,
Wearables