Zipline, the California-based startup that uses drones to deliver blood and drugs to remote Rwandan medical centers, is now using a fixed-wing aerial robot to make commercial deliveries at nearly 80 miles per hour. The company claims its fixed-wing UAV is the world's fastest commercial delivery drone. In Rwanda, Zipline has already flown 300,000 kilometers in over 4,000 flights since its October 2016 debut, and introduced a similar service in Tanzania. This expertise will enable it to compete with the big players in drone delivery including Amazon's Prime Air and Alphabet's Project Wing.
According to Technology Review, Zipline's news is especially relevant given that, "next month, the U.S. government is expected to green-light a number of agreements between private drone operators and states and local entities that want to test drone services" that include those in which drones "can no longer be seen from the ground by a human minder."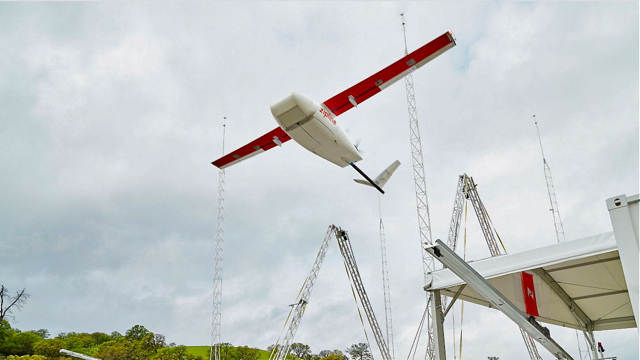 Zipline chief executive Keller Rinaudo reports that the company has also overhauled its logistics system and distribution centers, where drones are stored and loaded, as well as begun using computer-vision technology as part of pre-flight checks. As a result of these changes, "the time between receiving an order and getting a drone into the air [has plummeted] from 10 minutes to just one."
With these changes added to "a streamlined launch-and-recovery system plus more and faster drones," Zipline can now launch 500 flights a day out of a single center, "compared with 50 previously." The company reports that the new fixed-wing drones can carry "up to 1.75 kilograms on a round trip of up to 160 kilometers."
At the World Economic Forum, Drones and Tomorrow's Airspace initiative head Timothy Reuter reported that, "Zipline can leverage its experience in Africa to help organizations elsewhere improve the efficiency of supply chains using its drone technology."
Rinaudo believes that the company's delivery speed will help it compete with Amazon and Alphabet in "delivering urgent medical supplies and other goods," and has already "signed partnerships with several health-care systems in the U.S."
"The biggest thing we learned [in Africa] is that speed is everything," he said. "We've shown that this technology can save lives abroad; now we're going to show that it can save lives in the U.S. too." Wired posted a video showing Zipline's drones in action.