New Form Digital Studios announced it has signed YouTube stars PJ Ligouri and Sawyer Hartman for a pair of video series to be made available exclusively through Vimeo On Demand. Ligouri and Hartman, who collectively have more than 3 million YouTube subscribers, were awarded deals after creating shorts with New Form Digital, the MCN backed by Brian Grazer, Ron Howard and Discovery Communications. Jim Henson's Creature Shop has been tapped to create the mythical beasts for Ligouri's series, "Oscar's Hotel for Fantastical Creatures."
In addition to starring YouTube personalities such as Felix Kjellberg (PewDiePie), Mitchell Davis, Anna Akana and Grace Helbig, "Oscar's Hotel" cast members include notable mainstream actors such as Patrick Stewart, Alfred Molina and Elliot Gould.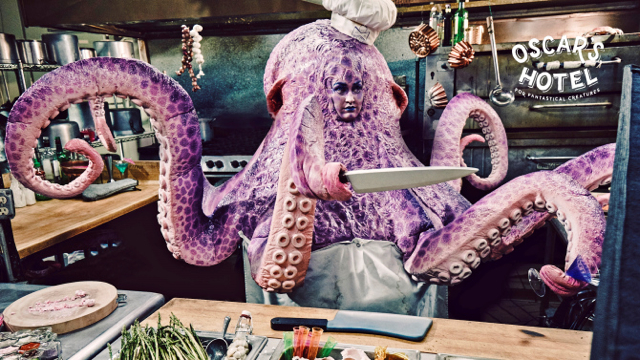 According to Variety, New Form is producing the six-episode series in association with Jim Henson Co. "Oscar's Hotel" is based on a short film by Ligouri that was part of an incubator project in 2014. The studio is producing a series based on Hartman's sci-fi short, "Parallax," from the same incubator. Both series are scheduled to debut in mid September.
As part of New Form's deal with Vimeo, two additional series are slated for production later this year.
"The deals represent another step in the broadening of the online-video business, still dominated by YouTube and its freely available videos in their bewildering multiplicity, but increasingly featuring other big companies and new ways of making money," reports Deadline.
"The decade-old Vimeo has long been an upscale competitor of YouTube, specializing in higher-quality content and offering ways to sell or rent videos through its On Demand offering."
Topics:
Alfred Molina
,
Anna Akana
,
Brian Grazer
,
Discovery
,
Distribution
,
Elliot Gould
,
Felix Kjellberg
,
Google
,
Grace Helbig
,
Jim Henson Co.
,
Jim Henson's Creature Shop
,
MCN
,
Mitchell Davis
,
New Form Digital Studios
,
Online Video
,
Oscar's Hotel
,
Parallax
,
Patrick Stewart
,
PewDiePie
,
PJ Ligouri
,
Production
,
Ron Howard
,
Sawyer Hartman
,
Streaming
,
Video
,
Video Series
,
Vimeo
,
Vimeo On Demand
,
YouTube