X2 Games released "St. Noire," an AI murder mystery board game that integrates Amazon's Alexa voice assistant. "St. Noire" ($40 on Amazon) lets players become private eyes and explore the eponymous, shady town to determine the culprit in a recent murder. Players ask Alexa to "examine" locations such as Black Saint Bar or Greasy Spoon, or to pretend to be a suspect during interrogation. The game, which requires the use of Alexa, is similar to the board game "Clue" in that it evolves by the process of elimination to determine the specifics of each crime.
The Wall Street Journal reports that Atari video game founder Nolan Bushnell and Hollywood creative director Zai Ortiz co-created "St. Noire," which is "just one among a murderer's row of recent games that integrate smart devices." Identity Games' $25 "Escape Room: The Game" uses smartphone-enabled VR to bring the escape-room experience to mobile devices, and Mattel just debuted "Pictionary Air," $20 at Target, described as "a digital twist on the family-room mainstay."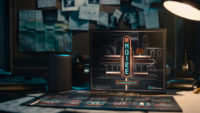 These games, notes WSJ, are "social to the core." In "St. Noire," for example, players must team up to nab the culprit "in a limited number of turns, collaborating in their race against the clock rather than competing against each other."
There's no limit to how many "detectives" can join in, but participants must have consensus on what step to take before prompting Alexa for assistance. Alexa is also there to manage the randomized plotline, which means "nobody has to keep score or track which character was where on the night of the crime."
VentureBeat reported that, at Comic-Con last month, where "St. Noire" debuted, Bushnell and Ortiz revealed in a panel that the Alexa-powered game "features over a dozen voice actors and 2,500 lines of spoken dialogue, and is the world's first fully-voice acted board game designed for Amazon Alexa."
"St. Noire" also offers "multiple storylines and endings, immersive sound design, and cinematic voice performances via Amazon Alexa." To ensure that "no two games are alike," the killer's identity is randomized, "making every new game feel fresh and unpredictable." From beginning to end, a game can take between 15 to 30 minutes.
"One of the really exciting things about 'St. Noire' for us was the idea of gamifying voice technology by fusing cinematic storytelling with board games," stated Ortiz. "By incorporating voice-control mechanics into the traditional tabletop format, we are transforming the board game landscape, as well as pushing the boundaries of what smart speaker gaming means."
At Comic-Con, "St Noire" also debuted on the #IMDboat, with writer/director Kevin Smith hosting a live show segment — accessible to IMDb's 250+ million monthly visitors on the website — with Bushnell and Ortiz.
Topics:
Amazon Alexa
,
Artificial Intelligence
,
Atari
,
Clue
,
Comic-Con
,
Escape Room: The Game
,
Gamification
,
Identity Games
,
IMDb
,
Immersive Sound
,
Kevin Smith
,
Mattel
,
Murder Mystery
,
Nolan Bushnell
,
Pictionary Air
,
Smart Speakers
,
Smartphones
,
St. Noire
,
Target
,
Virtual Reality
,
Voice Actors
,
X2 Games
,
Zai Ortiz