Audience Entertainment, a startup dedicated to making the big screen interactive, is launching a software development kit that would allow companies to create a new type of advertisement. New content developed with the SDK would allow audiences to control what is on the screen by jumping or performing certain arm movements in unison. The digital cinema company Barco and Audience Entertainment have teamed up to bring this experience, referred to as "iD," to 3,000 screens worldwide.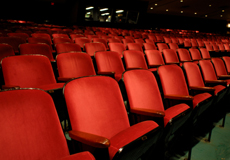 So far, the technology has been used in some one-time experiences. For example, audience members had the chance to control Donald Duck as he traveled down a water slide in one Disney Cruise Line ad. By moving their arms left or right, the whole group could help Donald pick up his rubber ducks.
It's simple games like these, with very broad movements, that can engage audiences and bring more attention to the ads in movie theaters.
Founder and CEO of Audience Entertainment Barry Grieff believes that the future of advertising is in interactive content. "He's hoping to bring that shift into movie theaters and other locations like arenas and concert venues, by installing cameras to capture motion and sound," reports TechCrunch. Eventually, Grieff hopes that movie trailers and feature films will utilize the technology.
The SDK will officially launch during Advertising Week, but interested developers can already start signing up for the beta version. The technology officially launched at CinemaCon 2014 in March.