Intel confirmed rumors that it was pursuing Internet TV when VP Eric Huggers announced last week that the company had been negotiating with content companies and would launch a set-top box and new platform by the end of the year. While skepticism has resulted from lack of concrete details, the prospect of a chipmaker competing with top cable giants, and the industry's history of failed attempts — Intel could still become the company to finally crack Internet TV.
"Make no mistake: Intel is proposing something genuinely audacious here," explains The Verge. "It's live multichannel programming delivered over a broadband data pipe, but sold separately. It might be delivered over coaxial cable if that's where you get your broadband, but that's an accident. It could just as easily be over fiberoptic or wireless. You could switch providers and keep your TV service exactly the same; you could move across the country and keep your TV service exactly the same."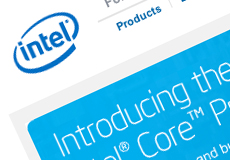 In theory, this means the service would be different than Google Fiber, since customers would not have to wait for Intel to arrive in their town. It would also offer a full slate of "catch-up" television, similar to the model provided by the BBC iPlayer.
"This means subscribers would have digital access to every program for seven days after transmission, without having to program a DVR," notes the article. "That's real cloud-based delivery of television content. The service would also include an expanded video-on-demand library similar to what most cable, satellite, and telecom companies are offering to compete with Hulu and Netflix's libraries. Finally, it would offer 'TV Everywhere'-style delivery of the service to every screen, from your television set to your mobile phone — a small miracle of technology and digital rights negotiation that's become almost commonplace in the last two years."
The article discusses the possibilities involved with the built-in camera of Intel's device and new TV apps, while speculating about the direction of program bundles and the distinction that Intel does not work directly in media. It also notes that, unlike other companies that have pursued Internet TV in the past, Intel has no conflicts of interest with the television industry.
Another potential advantage is the fact that the Intel Media team is led by Eric Huggers, who helped develop the iPlayer for the BBC. The team is comprised of individuals with consumer electronics and entertainment backgrounds. "We're not trying to take semiconductor personnel and turn them into software and media experts," notes company spokesperson Jon Carvill.
Additionally, Intel played a key role in developing Comcast's X1 gateway device, and has licensed the reference design for its own set-top box.
"Don't think of Intel as a company that makes processors," concludes the article. "Think of Intel as a company that makes technological standards. After all, the genius of the Wintel era wasn't really in the Pentium chips or auto-cascading spreadsheet windows… It was that two companies, Microsoft and Intel, were able to create a set of standards flexible yet rigid enough to support entire ecosystems of hardware vendors and software developers, but to also ensconce themselves at the top of that mountain for decades."
"Is there any market that more badly needs a flexible yet rigid set of technological standards more today than television? Are you really going to count out Intel, one of the most resourceful and resilient companies in the history of technology, when everything is pointing toward the living room as tech's next big battleground, and when Intel literally has nowhere else to go? We've been waiting for years for someone to do something to rethink the cable box. Maybe we're finally here."