Alphabet's Waymo, once a Google unit, has begun a campaign assisted by Intel to educate the public, even as it prepares to debut its first commercial ride-hailing service with Chrysler Pacifica minivans. Dubbed "Let's Talk Self-Driving," the campaign includes safety and disability advocacy groups, promotes its self-driving car pilot program in Arizona and seeks to educate the public about the technology behind autonomous vehicles. Intel will run an ad with LeBron James about self-driving cars.
The Verge reports that both Waymo and Intel "recognize that in order to make lots of money, there will need to be a robust effort to persuade people that autonomous vehicles are as safe, if not safer, than human-operated ones." That's necessary because, "recent polls suggest that most people wouldn't take a ride in a driverless car, even if they like the idea surrounding the technology."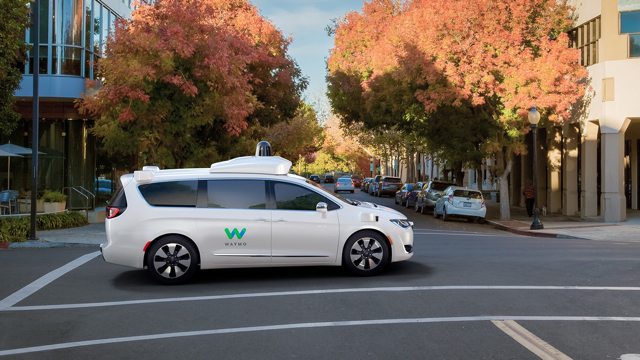 Waymo chief executive John Krafcik reports that the campaign will begin "with a series of digital and outdoor advertising campaigns in Arizona." "Our hope is to grow this conversation into a national dialogue and provide opportunities for people to get up close with this technology," he said.
U.S. transportation secretary Elaine Chao also called on the industry to "engage with the public on this technology." Waymo is partnering with Mothers Against Drunk Driving, the National Safety Council, and three Arizona-based organizations: the Federation for Blind Children, the East Valley Partnership, and the Foundation for Senior Living.
Elsewhere, The Verge reports on LeBron James' "campaign aimed at building trust in autonomous vehicles." The campaign, a leadup to the NBA season opening on October 17, is "the first time self-driving cars have been marketed to the general public and it's airing before this technology is even commercially available."
Intel, which has "expanded its focus" to self-driving cars, is footing the bill for the campaign, in the belief that "it is best positioned to overcome consumer apprehension toward driverless cars" by making "James the smiling, bearded face of its public effort." In the commercial, James first declines to get in the self-driving car, until he's told the vehicle's sensors allow it to "see 80 times better than you." At the end of the ride, he says, "Hey yo, I'm keeping this."
Last March, Intel acquired Mobileye, an Israeli auto visual company, for $15.3 billion, "spurring the chipmaker to begin making aggressive moves in the emerging self-driving market that Intel itself predicted will come to be worth over $7 trillion." The company now says it will build "a fleet of Level 4, fully self-driving vehicles for testing in the U.S., Israel, and Europe, the first of which will hit the road later this year," eventually scaling up to 100 automobiles.
Intel vice president/general manager of automated driving Kathy Winter sees "societal acceptance" as being the determining factor in how quickly autonomous vehicles are adopted. "We can build the very best vehicles with flawless technology, but if the public won't climb inside, the industry won't go anywhere," she said.
Topics:
Advertising
,
Alphabet
,
Arizona
,
Autonomous Vehicles
,
Chrysler Pacifica
,
Driverless Cars
,
East Valley Partnership
,
Elaine Chao
,
Europe
,
Federation for Blind Children
,
Foundation for Senior Living
,
Google
,
Intel
,
Israel
,
John Krafcik
,
Kathy Winter
,
LeBron James
,
MADD
,
Mobileye
,
National Safety Council
,
NBA
,
Ride Hailing
,
Safety
,
United States
,
Waymo