Walmart told its investors that it was opening fewer brick-and-mortar stores in favor of investing in online operations, a strategy that was initiated when Walmart chief executive Doug McMillon paid about $3.3 billion for e-commerce startup Jet.com. That company's founder, Marc Lore, will lead the initiative. The company predicts online sales will grow 20 percent to 30 percent in the next three years. Still, it's a risky gambit since Amazon is increasing its dominance in the U.S. consumer space.
Bloomberg quotes McMillan saying, "a lot of the foundational elements that we've been telling you for years that we needed to grow the e-commerce business are now in place."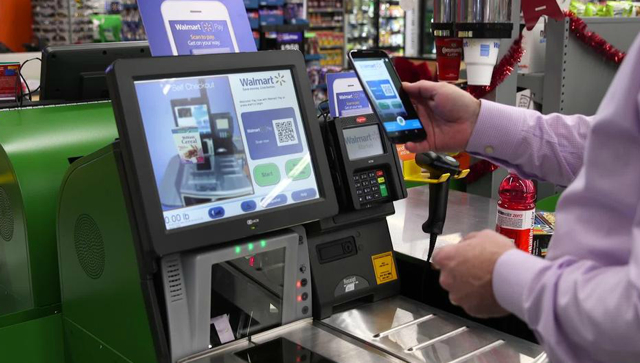 "It's time to invest more money," he said. "It's time to really get this going and start growing our e-commerce business in a different way."
But analysts are dubious Walmart can succeed since 55 percent of online consumers report they visit Amazon first, about half of U.S. households have an Amazon Prime membership, and U.S. shoppers spend 30 percent of their time online at Amazon's site versus 3 percent on Walmart's.
"I get that you have to be in e-commerce, but you are chasing the 800-pound gorilla," said Edward Jones & Co. analyst Brian Yarbrough. "You aren't going to out-Amazon Amazon." In fact, Yarbrough surmises that the company's online growth "will mostly be coming from its existing customers — and as a result will cannibalize its stores," where customers are "more likely to make an impulse buy."
At the same time, Amazon is successfully reaching into areas once dominated by Walmart, says Cowen & Co. analyst John Blackledge, who reveals that, this year, Amazon will sell more clothing than Walmart and that, by 2018, Amazon will be the "second-largest seller of consumables, such as cleaning supplies, paper towels and diapers."
An increasing number of Amazon Prime members are also Walmart shoppers: 42 percent now compared with 20 percent in 2013. Amazon Prime membership is also on a roll, adding 10 million in 2015 and on track to add 12 million this year.
Amazon also offers same-day delivery in 27 major cities, whereas Walmart is just rolling out a membership program for free two-day shipping. "To compete, Walmart would have to replicate the value proposition of Prime," said Blackledge. "If they could do that at scale, then they would have something, but Amazon has been singularly focused at this for 20 years."
While Walmart moves to online, Google is opening up a pop-up shop in New York City, says USA Today. Made by Google, which opens its doors October 20, will introduce a "high-end line of hardware," including the new Pixel and Pixel XL smartphones, VR headset Daydream View, Google Home smart speaker and Google Wifi. Some experts believe the move signals "a more ambitious brick-and-mortar retail strategy may be in the making," since pop-up shops "are a common prelude to establishing a bigger retail presence."
"It seems inevitable that they need some kind of hardware presence to show this stuff off in a consistent and joined-up way," said Jackdaw Research chief analyst Jan Dawson, who notes that Apple and Microsoft have both done so.
Related:
Amazon to Expand Grocery Business With New Convenience Stores, The Wall Street Journal, 10/12/16
Topics:
Amazon
,
Amazon Prime
,
Apple
,
Brian Yarbrough
,
Brick-and-Mortar
,
Daydream View
,
Doug McMillon
,
E-Commerce
,
Edward Jones & Co.
,
Google
,
Google Home
,
Google Wifi
,
Jackdaw Research
,
Jan Dawson
,
Jet.com
,
John Blackledge
,
Marc Lore
,
Membership
,
Microsoft
,
New York
,
Online Shopping
,
Pixel
,
Pixel XL
,
Pop-Up Shop
,
Retail
,
Shipping
,
Walmart