Walmart is launching its first video streaming stick, Vudu Spark, in time for the holiday season. This HDMI stick simply plugs into a television, connects to a Wi-Fi network, and starts playing movies and TV shows from Vudu, the Walmart-owned streaming video service. Vudu Spark will be competing with similar products, such as Google's Chromecast and Roku streaming sticks, both of which already offer access to the Vudu app and many other streaming services.
There's no release date on the device yet, but Vudu Spark popped up on an FCC database last week, which suggests that it is about to hit the market. According to GigaOM, the device is pretty simple. It does not appear to offer any other streaming apps besides Vudu. Also, Vudu Spark uses a Zigbee RF connection, so it won't be able to do any Miracasting or mirroring from devices.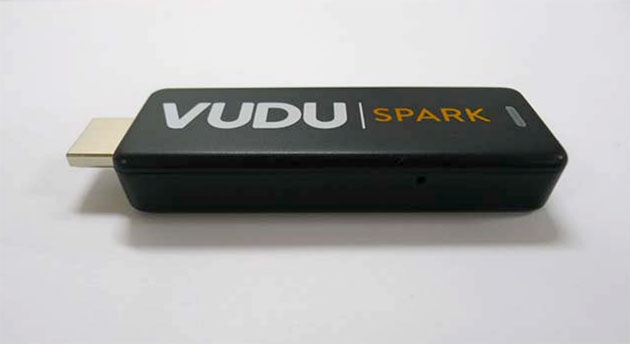 Since Vudu Spark only offers one app, it may be a tough sell for holiday shoppers. The Verge predicts that Walmart will try to lower the price to make it more competitive. However, the Chromecast is already offered at a price of $35, so there is not much room to lower the price any further.
Vudu was founded in 2004 and acquired by Walmart in 2010. The video streaming service doesn't have quite the popularity of Netflix or Hulu, but it does offer some features that neither of those services have. Vudu's partnership with UltraViolet enables users to keep movies, including digital versions of DVDs purchased in retail stores, in a digital locker. Also, Vudu plays movies in HDX, which is almost the same quality as a Blu-ray Disc.
Topics:
App
,
Blu-ray
,
Chromecast
,
Digital Locker
,
DVD
,
FCC
,
Google
,
HDMI
,
HDX
,
High Resolution
,
Hulu
,
Media Dongle
,
Miracast
,
Mirroring
,
Movie
,
Netflix
,
Retail
,
Roku
,
Streaming
,
Streaming Stick
,
Television
,
UltraViolet
,
Video
,
Vudu
,
Vudu Spark
,
Walmart
,
Wi-Fi