Walmart is transforming four of its stores into test labs to find the best ways to transition them into online fulfillment centers for e-commerce. Two of the stores are near its Bentonville, Arkansas headquarters, and the locations of the second two will be announced at a later date. Employees at these so-called laboratories will rely on digital tools and try out different strategies to integrate the company's e-commerce and brick-and-mortar sides. The company's online sales almost doubled during Q2, which ended July 31.
CNBC reports that, "even before the global health crisis, the company focused on using its numerous stores as an advantage over Amazon and other competitors."
Among the digital tools that employees will use in the test stores are "an app that uses augmented reality to scan multiple boxes in the back room rather than one at a time as they move them to the store floor" (pictured below). New store signage and handheld devices will test the ability to "cut down the time it takes to pick an online order … and product and technology teams will be based at the stores to accelerate the pace of prototyping."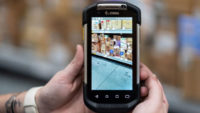 Walmart will also test ways to "better sync up its apparel assortment at the test stores … [so that] if the store and the website have the same shirts or sweaters, customers have more ways to get those goods — such as retrieving them through curbside pickup or having them shipped to the home."
Walmart will also test designs, hardware and software in the checkout area to maximize ease and speed. Walmart SVP of associate product and next generation stores John Crecelius said that, "the percentage of times that employees picking an online order find the item on their first attempt has gone up by 20 percent in some of its tricky merchandise categories when it's added the signage and handheld devices," adding that "the signage was inspired by airport terminals, with a letter and a number."
Walmart has 4,700+ stores in the U.S., and 90+ percent of Americans live within 10 miles of a Walmart store.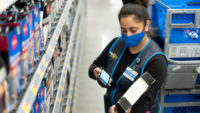 TechCrunch reports that, in the test locations, "some of the changes being put into place will be visible to the customer, while others will be more behind-the-scenes." The four areas where Walmart will test new ideas are assortment, inventory, picking and checkout process.
In one store, for example, "it will test moving the majority of the in-store apparel assortment online — meaning the same items can be found both in the store and online" to determine how to make all the eligible items "omni-available." The second test will use AR technology, rather than scanners, to "help to move the product to shelves, and in front of customers, faster than before."
A third test "uses a combination of handheld devices and in-store signage to help associates better navigate to the right locations when picking items for online orders" and the fourth test "will expand and build on an experimental checkout experience Walmart previously announced in June … [that] does away with individual checkout lanes, and transitions cashiers into the role of 'hosts' in a new area of the store that resembles a self-checkout destination."
Related:
Walmart Abandons Plan to Have Robots Check Store Inventories, Engadget, 11/3/20