Walmart is debuting Walmart Pay, a mobile payment system integrated into its existing smartphone app, which has 22 million active users. The new system will roll out to the company's 4,600 stores in early 2016. With Walmart Pay, the company is competing with Apple Pay and Google's Android Pay, neither of which have gained widespread traction. Based on QR code technology and near-field communication (NFC) technology, Walmart Pay's success — or lack thereof — rests on the consumer experience.
The New York Times notes the obstacles that both Apple and Google have faced in trying to get consumers to use their mobile payment systems. One has been the paltry — and slow-growing — number of merchants that support NFC. Consumer data firm InfoScout reports that Apple Pay was used for only 2.7 percent of eligible transactions on Black Friday, "its lowest rate since the firm started tracking its usage."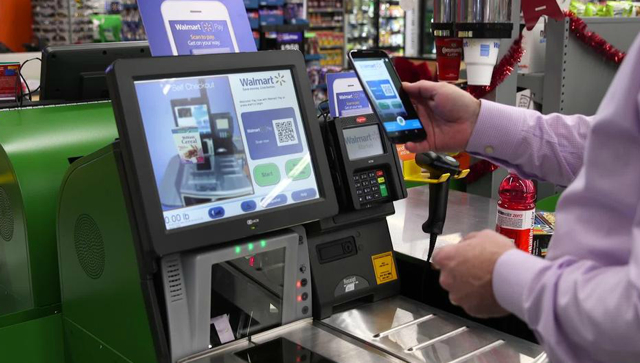 "Nobody's won yet," said James Wester, an IDC Financial Insights global payments expert. "It's not something we're just going to give over to Apple or Google. There's just been no overwhelming support for anybody. So at this point, it's still anybody's game."
Walmart is also a primary member of the Merchant Customer Exchange (MCX), a consortium of retailers intent on creating a payment system that would do an end-run around credit card companies and the fees they charge. MCX's payment app, CurrentC, is in the testing phase and Walmart Pay is seen as "a further blow to MCX."
Walmart e-commerce chief Neil Ashe says the company is still committed to MCX. But Walmart Pay offers credit cards as one of many payment options (including other mobile payment systems), leading some experts to conclude that Walmart has likely negotiated better fees with credit card companies.