Amazon dominates e-commerce, but now Google and Walmart Stores are partnered to compete. Google will enable customers to place orders via its virtual assistant, and Walmart will join Google's online shopping market Google Express. Walmart will fulfill orders made through Google Express, and will also share consumers' purchase history with Google, which streamlines re-ordering of products. Voice-enabled shopping is a rapidly growing market sector, with Amazon enabling it through its Alexa voice assistant and Echo speakers.
The Wall Street Journal quotes Google Express chief Brian Elliott explaining the rationale behind the new partnership, as he asks "how do you help people who are going to be interacting more and more with devices get their weekly shopping tasks taken care of?" Walmart head of e-commerce Marc Lore answers that question, saying Google has "made significant investments in natural language processing and artificial intelligence to deliver a powerful voice shopping experience."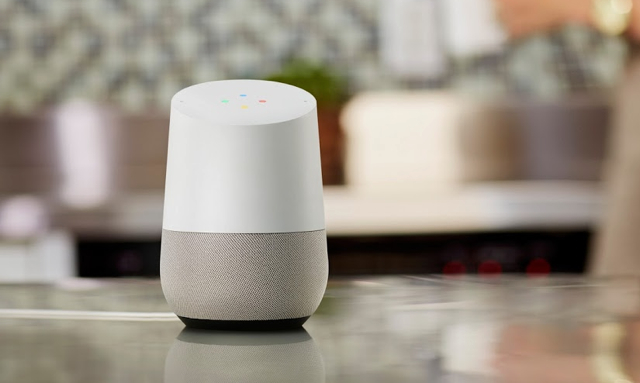 Amazon pioneered the use of voice shopping, as well as using its data to streamline reordering, which is "a significant portion of online shopping." According to Consumer Intelligence Research Partners' survey of 300 device users, "more than half of Echo users have bought something on their device, and about 30 percent of those customers buy something at least once a week."
The Google/Walmart partnership will "make voice shopping easier" by allowing users to link their Walmart accounts to Google Express, "so a Wal-Mart shopper who asks the Google Home for more toothpaste will get the same brand she bought last time." Amazon's dominance of the e-commerce market is impressive.
Slice Intelligence reports that, in July, the company "claimed nearly 45 cents out of every dollar spent online … up from about 43 cents at the start of the year." Wal-Mart, meanwhile, has "held steady" at 2 cents of every dollar.
With Google Express, launched in 2013, "Google enlists third-party firms to fulfill orders" from Target, Costco, Walgreens Boots Alliance, and others. Google Express makes its money "on commissions from those merchants." Google will now drop its $95 annual fee for free shipping, and "Wal-Mart said it would fulfill its Google Express orders itself, a new, likely cheaper model for Google."
According to thirty bees, an open-source e-commerce platform, Amazon's patent on its 1-Click technology will expire this September 12, meaning that anyone with an e-commerce site could use the technology behind it. "Most major sites have already started development with plans to launch soon after the patent expires," it adds.
In the last 20 years, Amazon has only licensed it to one company, Apple, and the value of that patent "has been assessed at 2.4 billion dollars by sources." The World Wide Web Consortium (W3C) is already writing a draft proposal for one-click buying methods, aided by "some of the top companies in the industry like Google, Apple, and Facebook to help come up with a set of specifications."
Topics:
1-Click Ordering
,
Alexa
,
Amazon
,
Apple
,
Artificial Intelligence
,
Brian Elliott
,
Consumer Intelligence Research Partners
,
E-Commerce
,
Echo
,
Facebook
,
Google
,
Google Express
,
Google Home
,
Marc Lore
,
Natural Language Processing
,
Patent
,
Slice Intelligence
,
Smart Speakers
,
Virtual Assistant
,
Voice Assistants
,
W3C
,
Walmart
,
World Wide Web Consortium