Content licensing has seen a paradigm shift with the iTunes Store and emerging online alternatives for distribution. Now Vimeo, largely touted as a competitor to YouTube, has announced a program to help indie filmmakers market their films if they have raised at least $10,000 from crowdfunding sites. Vimeo searches for movies to license, and offers creators free Pro accounts and promotion financing, in exchange for the movies being made available on its paid distribution platform Vimeo On Demand.
The IAC-owned company timed the announcement for the Sundance Film Festival in Park City. Vimeo started the program with a selection of movie projects last September through crowdfunding sites such as Kickstarter, Indiegogo and Seed&Spark.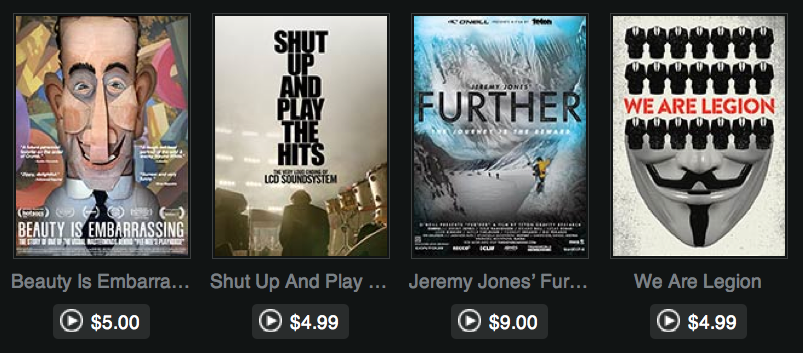 "Vimeo plans to review 'distribution-ready' films on such crowdfunding sites to pick projects that will receive Pro accounts and marketing dollars," reports Variety. "The company will create promotional campaigns on and off vimeo.com, with selected partners receiving at least $10,000 in marketing funding. The filmmakers must agree to put the movies on Vimeo On Demand, the paid distribution platform launched last year."
"While crowdfunding has changed the game in getting films made, Vimeo is taking the next step supporting filmmakers to get their work seen and purchased on Vimeo and across the Web," suggests Greg Clayman, general manager of audience networks for Vimeo.
Vimeo On Demand enables premium subscribers to sell original content on their own terms, under a 90/10 revenue split, with 10 percent going to Vimeo. The service recently added in-player transaction support, which allows content creators to market and sell content on their own sites.
"Vimeo earmarked a total of $500,000 to promote these kinds of movies, which may be a drop in the bucket when compared to the money Netflix and others are spending on original content," writes Janko Roettgers for GigaOM. "But the initiative nonetheless goes to show that crowdfunding can be used in all kinds of interesting ways, and it makes me wonder when we are going to hear about the first major music label using Kickstarter for artist discovery."
Topics:
Campaign
,
Clayman
,
Content
,
Cost
,
Crowdfunding
,
Discovery
,
Distribution
,
dollars
,
Festival
,
Film
,
Film
,
Filmmakers
,
Finance
,
Funding
,
Greg
,
Independent
,
Indie
,
Indiegogo
,
iTunes
,
Kickstarter
,
Licensing
,
Marketing
,
Motion Picture
,
Movie
,
Music
,
Netflix
,
Online
,
Original
,
Park City
,
Production
,
promoting
,
ready
,
Roettgers
,
Seed
,
Spark
,
Stream
,
Streaming
,
Sundance
,
Utah
,
Variety
,
Video
,
Vimeo
,
Vimeo On Demand
,
VOD
,
YouTube