During the COVID-19 pandemic, video game platforms have transformed into virtual entertainment sites. Online game platform Roblox recently hosted a benefit concert featuring Lady Gaga and Paul McCartney, and online game "Fortnite" ran a trailer for director Christopher Nolan's upcoming feature "Tenet" and Quibi video clips. It also added a socializing space, launching it with a party at which EDM stars deadmau5, Steve Aoki and Dillon Francis performed. Most recently, also on "Fortnite," DJ Diplo debuted his latest album in a live performance.
The Wall Street Journal reports that, on June 26, "Fortnite" will host three previously released Nolan films, and "users will be able to watch just one of them depending on what country they are in." Roblox plans to show short movie clips and actor interviews, and Microsoft-owned "Minecraft," starting July 9, will host a four-day dance-music festival.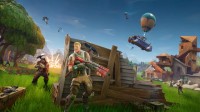 WSJ notes the difference in attending a concert in a video game rather than on a platform like Netflix Party: "in games, users see each other in the form of … avatars … can have voice or text conversations, move almost anywhere within the venue and make their avatars dance." Further, "competitive play is typically put on hold during in-game concerts and other events."
Some events are free and others charge an entry fee. The upcoming Rave Family Block Fest on "Minecraft," for example, charges $15 for a VIP pass and $10 for general entry. VIP access "includes early entry to a virtual camping ground, plus a chance to win a private performance over a live-video app by a headlining artist."
"It's an entire ecosystem," said Rave Family LLC head Jackie McGuire. "It will be run like a typical music festival, just bigger." WSJ points out that concerts in games have happened for years, but the turning point was in early 2019 "when electronic musician Marshmello performed a free, 10-minute set in Fortnite … [and] more than 10 million people showed up."
At London-based MIDiA Research, lead game analyst Karol Severin noted that, "it's going to take some time for people to grow their confidence back" to attend a real-world concert space. For artists, the upside is that "games can accommodate more people at their events than the largest of stadiums."
"You can scale to a level that's just impossible to do in the real world," said Seven20 chief executive Dean Wilson, whose company manages Canadian DJ, producer and musician deadmau5. "Touring is expensive. It's exhausting."
Variety reports that the three Nolan films that will be shown on "Fortnite" are "Inception," "Batman Begins," and "The Prestige." "Inception" will screen in the U.S., Puerto Rico, Mexico, Japan, Egypt, Israel and the Philippines; "The Prestige" will be available in the U.K., Canada, Belgium, Denmark and Germany, and "Batman Begins" will screen "for users in territories including India, France, and Brazil."
Epic Games, which organized the screenings in collaboration with Nolan and Warner Bros., noted that, "navigating distribution rights for different countries and languages for full movies is challenging … [but] as part of this first test, we wanted as many people to experience Movie Nite as possible."
Topics:
App
,
Christopher Nolan
,
Coronavirus
,
COVID-19
,
Deadmau5
,
Dean Wilson
,
Dillon Francis
,
Diplo
,
EDM
,
Epic Games
,
Fortnite
,
Jackie McGuire
,
Karol Severin
,
Lady Gaga
,
Marshmello
,
Microsoft
,
MIDiA Research
,
Minecraft
,
Netflix Party
,
Paul McCartney
,
Quibi
,
Rave Family
,
Roblox
,
Seven20
,
Steve Aoki
,
Tenet
,
Video
,
Video Game
,
Warner Bros.