The U.S. Court of Appeals for the District of Columbia has struck down segments of the FCC's Open Internet rules. Ruling on Verizon v. FCC yesterday, the court has determined that the Federal Communications Commission does not have the power to require Internet service providers to treat all traffic equally. And broadband providers are free to charge companies such as Netflix and Google higher fees to deliver content faster, a cost which would likely be passed on to consumers.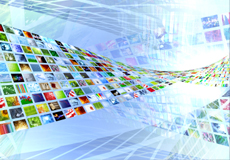 According to Sandvine, Netflix currently accounts for 32 percent of peak Internet traffic in North America, the highest percentage of any content provider. The spotlight will also be on Google and other streaming video services. Google's YouTube accounts for 19 percent of traffic at peak hours. Netflix and Google are part of the Internet Association, a coalition that supports the approach the FCC took with open Internet rules.
"The Internet Association supports enforceable rules that ensure an open Internet, free from government control or discriminatory, anticompetitive actions by gatekeepers," Michael Beckerman, the association's president said yesterday.
"The implications for Netflix of paying a new content-delivery fee could be significant," reports The Wall Street Journal. "The company's finely balanced business model assumes it will make large investments to acquire the rights to TV shows and movies that it offers and factors in some costs related to moving data efficiently on the Internet's backbone. But a new fee charged by Internet providers, if it is sizable, could dent the company's profits or force it to raise prices for consumers."
Internet companies will likely fight to prevent paying new fees, but some analysts believe that some form of usage-based billing is inevitable to help offset the cost of Internet infrastructure and increased traffic.
Additionally, the court's decision could impact future mergers. "The ruling Tuesday left open the door for the FCC to craft rules in a different form that might accomplish its earlier intentions," notes WSJ. "And the agency also could weigh in on the issue when it considers cable industry mergers, by imposing conditions on big players. Speculation that a wave of cable mergers is in the offing has been fueled in recent months by Charter's pursuit of Time Warner Cable."
"The DC circuit court has ruled on Verizon v. FCC, a challenge to the net neutrality rules put in place in 2010, vacating the FCC's anti-discrimination and anti-blocking policies, though it preserved disclosure requirements that Verizon opposed — in other words, carriers can make some traffic run faster or block other services, but they have to tell subscribers," further explains The Verge.
"The problem isn't that the court opposed the FCC's goals, it's that unlike older telecommunications providers, ISPs aren't classified as 'common carriers' that must pass information through their networks without preference," notes the article. "By enforcing net neutrality, the court found, the agency was imposing rules that didn't apply to carriers. It's an issue that net neutrality supporters have been worried about for years."
"The FCC — under the leadership of former Chairman Julius Genachowski — made a grave mistake when it failed to ground its Open Internet rules on solid legal footing," says Free Press President Craig Aaron. "Internet users will pay dearly for the previous chairman's lack of political will."
"I am committed to maintaining our networks as engines for economic growth, test beds for innovative services and products, and channels for all forms of speech protected by the First Amendment," current FCC Chair Tom Wheeler commented. "We will consider all available options, including those for appeal, to ensure that these networks on which the Internet depends continue to provide a free and open platform for innovation and expression, and operate in the interest of all Americans."
Via its Public Policy blog, Verizon has issued a response to the decision, which reads in part:
One thing is for sure: today's decision will not change consumers' ability to access and use the Internet as they do now. The court's decision will allow more room for innovation, and consumers will have more choices to determine for themselves how they access and experience the Internet. Verizon has been and remains committed to the open Internet that provides consumers with competitive choices and unblocked access to lawful websites and content when, where, and how they want. This will not change in light of the court's decision.
Topics:
Agency
,
Appeal
,
Association
,
Bandwidth
,
Beckerman
,
Broadband
,
Cable
,
Charter
,
Commission
,
Communications
,
Content
,
Court
,
Data
,
DC
,
FCC
,
Federal
,
Genachowski
,
Google
,
Internet
,
ISP
,
Law
,
Legal
,
Legislation
,
Merger
,
Model
,
Movie
,
Net
,
Netflix
,
Neutrality
,
Open
,
Provider
,
Rule
,
Ruling
,
Sandvine
,
Stream
,
Streaming
,
Traffic
,
TV
,
TWC
,
Verizon
,
Video
,
Washington
,
Web
,
YouTube