At the E3 conference in Los Angeles this week, Ubisoft announced its entrance into subscription PC gaming with Uplay Plus, which will offer 100 titles published by Ubisoft. The service is slated to launch on September 3 and is designed as a monthly fee in exchange for unlimited access to the games. Although that model is similar to Microsoft's Xbox Game Pass and EA's Origin Access, Uplay Plus is more expensive, at $14.99 per month. Among the games available on Uplay are "Assassin's Creed" and "Rainbow Six" titles, which will also be on Google's Stadia service next year.
The Verge compares the monthly subscription fee for Uplay Plus with its rivals: Microsoft's service is $9.99 for console and PC, and EA's Origin Access is $4.99 per month or $29.99 per year. Microsoft also bundles its service with Xbox Live Gold for $14.99.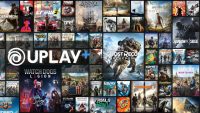 Ubisoft's service gives the user "access to all downloadable content and expansions for games included in the subscription, which is a big plus for players getting in late on titles like 'The Division 2'."
Its most important benefit, however, is that Ubisoft partnered with Google to debut Uplay on Stadia "sometime next year." Earlier this week, Stadia head Phil Harrison announced that the platform "would be open to hosting other companies' services." Although a free version of Stadia will debut sometime in 2020, for now, "if you want to use Uplay Plus on Stadia, you'll need to pay both companies separate subscription services."
USA Today reports that Ubisoft vice president of platform and product management Brenda Panagrossi stated that, "Stadia is a new generation platform where you can play our games on any device." "This is the beginning of our partnership," she promised. The cloud-based Stadia, set to launch in November, will be free for three months. Then, "players will need to pay $9.99 monthly for the Stadia Pro service to stream games on their TV."
Digital World Research founder P.J. McNealy said that "the transition is underway to subscriptions and this is the first big experience in pricing sensitivity." "They want to find out how much money they can actually charge somebody and still get the right number of subscribers to cover costs," he said.
But, warned some experts, "some consumers may be turned off even before tech companies and game makers flip the switch on cloud-streamed video games if they have to pay multiple subscriptions as they do." "It demonstrates a lack of planning and coordination," said Wedbush Securities analyst Michael Pachter. Users can sign up for Uplay Plus before August 15 and get free access from September 3 through 30.
Related:
Mobile Games Now Account For 33% of Installs, 10% of Time and 74% of Consumer Spend, TechCrunch, 6/11/19
Topics:
Assassin's Creed
,
Brenda Panagrossi
,
Cloud
,
Digital World Research
,
E3
,
Electronic Arts
,
Gaming
,
Google
,
Michael Pachter
,
Microsoft
,
Origin Access
,
P. J. McNealy
,
Phil Harrison
,
Rainbow Six
,
Stadia
,
Stadia Pro
,
Streaming
,
Subscription
,
The Division 2
,
Ubisoft
,
Uplay Plus
,
Wedbush Securities
,
Xbox Game Pass
,
Xbox Live Gold