The European Union and United States agreed yesterday on strengthening cooperation regarding several major global concerns, including a "rebalancing" of supply chains for semiconductors, new approaches to regulating international tech companies, and practical models for contending with "non-market, trade-distortive policies and practices" (although China was not singled out in the group's statement). During their first meeting in Pittsburgh yesterday, officials from the newly formed U.S.-EU Trade and Technology Council (TTC) promised to work together on the development of artificial intelligence and screening interests in sensitive dual-use technologies.
Meanwhile, open issues remain in terms of tariffs, but yesterday's gathering is expected to be the first of many future meetings that will focus on trade and technology. "The Biden administration has kept in place tariffs imposed by former U.S. president Donald Trump but has sought to differentiate itself by collaborating more with allies in its approach to China," Reuters explains.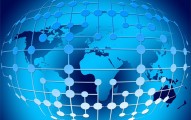 Yesterday's discussions were led by EU trade chief Valdis Dombrovskis, European Commissioner for Competition Margrethe Vestager, U.S. Secretary of State Antony Blinken, Commerce Secretary Gina Raimondo, and U.S. Trade Rep Katherine Tai.
The governments "backed a joint declaration to strengthen semiconductor supply chains, focusing initially on easing short-term supply bottlenecks and later on identifying longer-term vulnerabilities and 'strengthening our domestic semiconductor ecosystems, from research, design to manufacturing, with a view to improving resilience.'"
Chip production and distribution has faced a "major disruption in the wake of the coronavirus pandemic," notes CNBC. "Demand for chips has outgrown supply in the past months, which has impacted the production of many products, including cars, TVs and many other electrical appliances."
Vestager told reporters after the meeting that she believes AI discussions were among the day's most important. "Minds are meeting for artificial intelligence to be trustworthy, to be human-centered, and to have a risk-based approach," she said.
"We are committed to trans-Atlantic cooperation regarding platform policies that focus on disinformation, product safety, counterfeit products, and other harmful content," notes the joint statement, prompting Reuters to suggest that, with Europe and the U.S. "trying to restrain the growing power of American tech giants such as Alphabet's Google, Facebook, Apple and Amazon, such cooperation would make it harder for the U.S. tech industry to fight new rules."
In moving forward, the TTC formed 10 working groups on these areas in addition to topics such as climate, clean technologies, communications tech security and the misuse of tech affecting human rights.
Topics:
Alphabet
,
Amazon
,
Antony Blinken
,
Apple
,
Artificial Intelligence
,
Big Tech
,
China
,
Donald Trump
,
European Union
,
Facebook
,
Gina Raimondo
,
Google
,
Joe Biden
,
Katherine Tai
,
Margrethe Vestager
,
Pittsburgh
,
Privacy
,
Regulation
,
Security
,
Semiconductor
,
Supply Chain
,
Tariff
,
TTC
,
United States
,
Valdis Dombrovskis